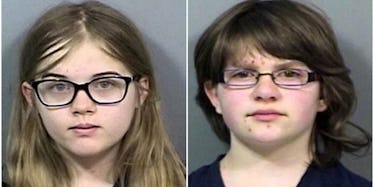 Parents Say Girl Stabbed Her BFF 19 Times Because Of Creepy Internet Meme
Police handout
The parents of a teenage girl accused of stabbing her best friend in the woods in a bid to prove Slender Man is real have spoken out.
Anissa Weier was 12 when she allegedly lured Payton Leutner to a secluded area of Waukesha in Wisconsin with her friend Morgan Geyser on May 31, 2014.
She was stabbed 19 times, but somehow survived the attack.
Weier's parents, Kristi and Bill, spoke about their shock when they found out their daughter was involved in the crime. Bill told Good Morning America,
It was really kind of surreal from the time I got the phone call to the time that we realized there were more things going on than what we were initially led to believe.
Kristi went on to explain they both had no idea their daughter was obsessed with Slender Man.
She explained,
During the interview tapes that we've seen, they thoroughly believed Slender Man was real and they wanted to prove he was real. We've never seen her watch videos or read stories or "hey, look what I've found on the internet" or anything. She was just typical. Compared to the other three children [her siblings], she didn't show any other signs of... disbeliefs or anything.
Weier is being held at a juvenile center as she awaits trial, where she will be tried as an adult -- a move her parents disagree with, claiming there are "outdated laws" in Wisconsin.
Bill said his daughter has expressed remorse. Asked what he would say to the victim's parents if they were to ever meet, he replied,
If they were here face-to-face, I would tell them I'm sorry. I would tell them that I'm thankful that Payton survived, and I would tell them that for as much as they are struggling with trying to process this and what happened to their daughter, we are struggling equally, trying to process this with what happened -- not only to their daughter, but our daughter.
The girls had originally come across stories about Slender Man on a website called "Creepy Pasta."
Citations: Parents of Accused Teen Stabber in 'Slenderman' Case Speak Out for the 1st Time (Good Morning America)