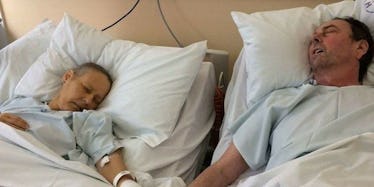 Siblings Get Slammed For Posting Pic Of Dying Parents On Crowdfunding Site
JustGiving
Back in 2013, Mike Bennet was diagnosed with a brain tumor. Just three years later, his wife Julie was diagnosed with cancer. This year, Mike and Julie both passed away within days of each other.
The couple leave behind three children and now, they're being accused of taking advantage of their parents' death by vicious online trolls.
The Bennet kids took to crowdfunding site Justgiving to share photos of their parents as well as their story.
The post, put together by a friend named Claire Knight, reads,
Luke, Hannah and Oliver are 3 amazing young people who have coped with both parents being diagnosed with terminal cancer. One parent has recently passed and one is now in a hospice. All three children love performing and have given many people a great deal of joy in their performances. They are now in need of your help. Please give what you can.
Since the post was created, both parents have passed away.
According to Metro, Luke, Hannah and Oliver (21, 18 and 13 respectively) dropped out of college and were in danger of losing their home after their parents died.
The temporary financial relief generated using a crowdfunding site is now being criticized by trolls online who believe the Bennet family is taking advantage of their parents' death.
Luke Benett, 21, spoke to reporters at The Times about the false accusations, saying,
There have been comments that we are taking advantage of our situation and that we should have kept everything private. I am not going to try to remember the wording, there were some very unpleasant things. With so much media attention and money involved, it can feel like it almost takes the focus away from what's important – the loss of Mum and Dad and how we're going to move on as a family.
While Luke, Hannah and Oliver are hurt by the response they received after asking for help online, Luke prefers to overlook the trolls and be thankful for the kindhearted strangers out there who did help them out.
Luke continued,
If some people think less of us because of the way we've tried to manage things, we're willing to live with it because if the huge amount of support hadn't been given, we would be losing our home as well as our parents, and things could be even more difficult.
Fortunately for the Bennets, it doesn't seem like the nasty trolls got their way. Family friend Claire Knight updated the post on the crowdfunding site, revealing,
We've raised £276,820 to help Luke Hannah and Oliver continue to live a life at home and be able to sustain their activities and studies.
A family friend named Heather Heaton Gallagher also spoke to reporters on behalf of the Julie and Mike's children, saying,
The biggest challenge is that the family car, a Motability car, has to be returned, meaning that the kids can't get around to manage practical and personal activities.
Luke and his siblings may have been criticized by suspicious trolls online, but the good news is there were even more generous supporters out there who did come to their aid, helping them raise $338,467 (£276,820).
The money is expected to be used to fund transportation costs, education expenses and overall life without their parents.
I think the lesson to be learned here is very simple. If you're skeptical about helping someone out with money because you suspect they may be trying to take advantage, don't donate to their cause.
That seems like a much more logical approach than bashing someone who may really be grieving over a great loss.
Citations: Orphans of cancer couple who died within days of one another accused of taking advantage of their death (Metro)