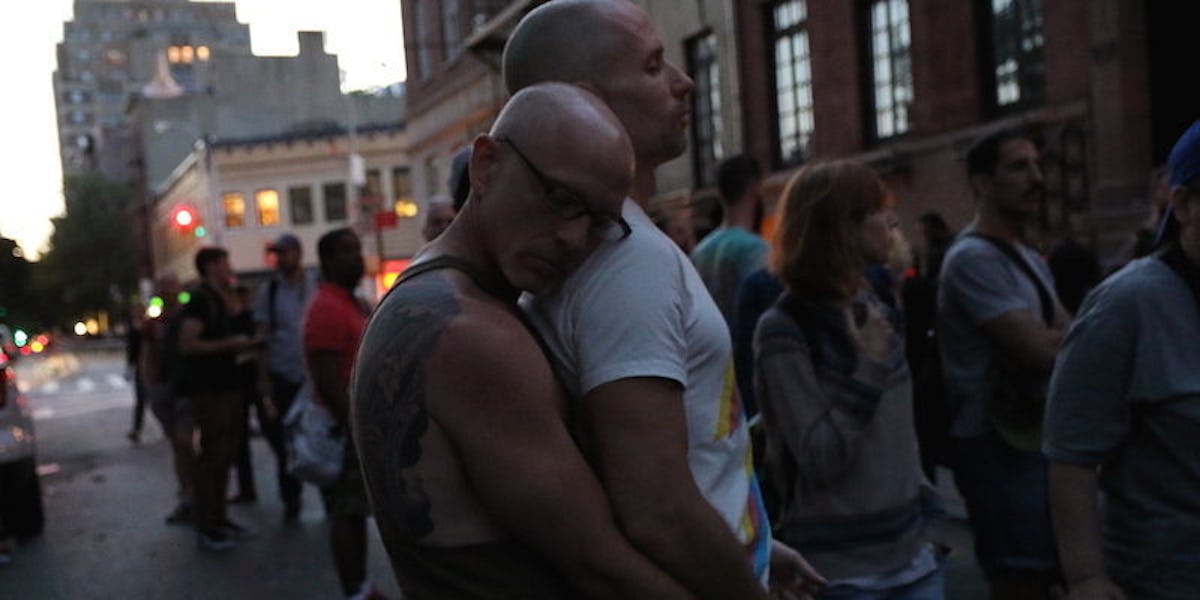 Rise Up: 12 Messages For The LGBT Community From The Stonewall Inn
Elizabeth Svokos
Hundreds of people gathered at the Stonewall Inn in New York City on Sunday evening to honor the victims of the shooting at Pulse, a gay nightclub in Orlando, Florida.
The Stonewall Inn was the site of riots in the late 1960s and is recognized as one of the most significant locations in the fight for LGBT rights in America.
It was a very emotional night at the Stonewall Inn, as people from across communities came together to mourn, support and continue to be themselves.
This shooting happened in the midst of Pride Month, a celebration for LGBT rights. In light of this, we asked people at the Stonewall Inn what messages they had for the LGBT community.
"Peace and love."
"Peace and love. All of this anger and craziness and nonsense is -- it doesn't make sense to answer violence with more violence. Everybody should just let everybody else be." - Christine
"It's really, really important to stick together."
"Right now it's really, really important to stick together. I know that a lot of people were talking about being afraid to go to safe spaces and LGBTQA spaces. I understand that.
But in some way or another I think the most important thing that we can do right now is maintain the community, because I think everyone is probably very scared, and that's the only way we can get through something like that." - Áine, 19
"We're with you."
"We're with you. We're with you. Sometimes I don't know how to show that, maybe that's another reason we're here is just to show that we're with you.
It's all one team and I want [the girls] to see that, that it's not a bunch of different pods of people. It's all one big team. I want them to know that we're with them, even if sometimes we don't know how to show it." - Scott, 49
"Don't get frustrated."
"I think that, if anything, this has shown how strong we are as a community and has brought us together and brought us to this place to celebrate what we are and who we are and to not let hate affect how strong we are as a community." - Justin Reyna, 23
"Don't get frustrated and just remember you're not alone. You're always a part of your society." - Heather, 20
"I'm with you." - Monika Rostvold, 24
"Project love to yourself."
"Project love to yourself and project love from your heart to other people that can receive it. If they can't receive it, don't try too hard.
But try to have that feeling and a feeling of self-worth. Not that you're special, but that you're just part of the human race. I think it's all about humanity." - Robert Heide, who has lived on Stonewall's block for over 50 years
"It's just really sad."
"In those 50 people you can take every race, every religion, and they're involved. This is a big deal, because it's everyone. It's something we all share. It's very upsetting. Especially when we're all here for Pride, and it's a time of year we all look forward to and to start it off this way, it's not right.
...I honestly didn't think of myself as being in fear, but it's getting to the point where you almost have to be. In Orando. A nightclub. In Orlando, Florida. Are you serious? I don't have anything to say because it's almost like you're in fear. What do you say to someone who's in fear? Nothing. It's just really sad." - Brandon Hoover
"Love."
"I love everybody in the LGBT community." - Alivia Bloch, 23
"Honesty and support."
"I've been, obviously, gay my whole life, and this is something I've been dealing with my whole life: Hate, rejection.
But the thing that we can only give to each other right now is support. Completely. Honesty and support.
Even among us, sometimes there's certain types of discrimination, but this is a time when we all need to get together and forget about religion and race and just be seeing the LGBT community as humans, not just a sexual orientation." - Gustavo Gonzalez, 31
"Don't match hate with hate."
"Don't match hate with hate. It's really easy to get swept up and to let your feelings and your emotions take over. I think that particularly, given the state of this country and how divisive particular politicians are making us, that it's really important that we try to fight for progress together and not focus on the things that divide us." - Raisa D'Oyley, 27
"Take time to heal, because I think a lot of times people forget to have their moment where they need to process and they go straight into action -- which I think is beautiful, and that needs to happen as well -- but definitely take your time to process and to mourn.
And then rise up. Rise up and love and not hate. ... Rise up, but take your time to mourn." - Matt Davidson, 25