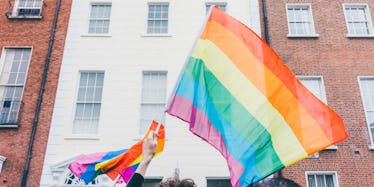 Here's Your Ultimate Guide To Celebrating Love At This Year's LA Pride Festival
Every spring, LA Pride returns as one of the biggest celebrations of love and inclusivity in the world. Taking place in West Hollywood, California, over the course of three days, LA Pride attracts more than 400,000 people each year. While it may look like one giant, rainbow-filled block party from afar, at its core LA Pride makes a loud statement that love wins over hate time and time again.
So let's get the facts straight about this year's LA Pride Festival and Parade.
When is this happening again?
LA Pride will kick off this Friday, June 10, at 6 pm and come to a close on Sunday, June 12, around 11 pm.
Why is this happening again?
Run by the non-profit, Christopher Street West Association, Inc., LA Pride serves as a symbol for the ongoing struggle for equality and understanding within the lesbian, gay, bisexual and transgender communities. According to the organization's website,
Founded in response to the Stonewall Rebellion on Christopher Street in New York on June 28, 1969, Christopher Street West conducted the first parade in the world advocating for gay rights on June 28, 1970 in Hollywood, CA. That tradition lives on today in the form of the LA PRIDE Music Festival and Parade, now in it's 46th year.
It's also a really fun opportunity to connect with others in the community and show your support.
Awesome! Where can I buy tickets?
You can buy weekend and single-day passes on the organization's website now or at the event, subject to availability. Due to public outcry, ticket prices dropped so that single-day tickets are now $25 and full weekend passes are $45. As always, you can attend Friday's events for free, baby.
Who's going to keep us entertained AT ALL TIMES?!
I mean, you can keep yourself entertained just by looking at all the amazing outfits and dancing your little tookus off. As far as paid performers go, you can expect to see Carly Rae Jepsen, Charli XCX and Krewella headlining this year. You can also find the complete lineup and the schedule of performances on LAPride.org.
There will be food there, right?
Uh, naturally. You can expect to see tons of food trucks offering vegetarian and vegan options. Along with all the incredible restaurants Santa Monica Blvd. has to offer. Just don't try to get a table at Gracias Madre at 7 pm on Saturday unless you're looking to get trampled by a hangry vegan mob.
Will Lisa Vanderpump be there?
She'll either be there or be square, and as everyone knows, Lisa Vanderpump is anything but square.
See you there, lovelies!
Stay tuned for more LA Pride coverage this weekend on Twitter and Snapchat. And don't forget to subscribe to Elite Daily's official newsletter, The Edge, for more stories you don't want to miss.
Citations: LA Pride FAQ (LA Pride)