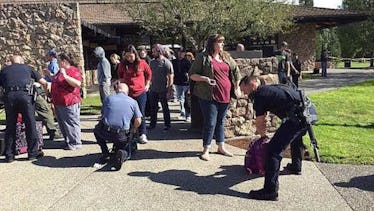 At Least 10 Dead In Shooting At Oregon Community College (Live Update)
Authorities are warning students in Roseburg, Oregon to stay alert after a shooting took place at Umpqua Community College.
Some reports are claiming at least 15 people have died.
Oregon State Police have now confirmed that 15 are dead at Umpqua Community College in Oregon. #UCCShooting — Michael Skolnik (@MichaelSkolnik) October 1, 2015
Other reports claim the number is at 10 deaths and multiple people are injured.
The Douglas County Fire Department is warning students to stay inside as the shooter is still active.
Active shooter at UCC. Please stay away from the area — Fire Dist No.2 (@DCFD2) October 1, 2015
Active shooter scene is code 4. Multiple casualties all pt's transported. Media requests are being handled by Douglas County Major Crimes — Fire Dist No.2 (@DCFD2) October 1, 2015
Update 2:38 pm: CNN is reporting the shooter is down and in custody.
Update 2:59 pm: Reports are saying the shootings happened in Snyder Hall.
Update 3:00 pm: The school's website is down.
Update 3:11 pm: Students and faculty on the campus are being taken to local fairgrounds.
Update 3:45: The following are images from the campus.
Update 4:45 pm: Sheriff confirmed shooter was a male and he is dead.
Update 4:52 pm: The subject was reportedly 20 years old.
Update 7:52 pm: Four guns were recovered from the scene, including three pistols and one rifle.
Update 7:59 pm: The Douglas County Sheriff's Department stated the official number of deaths is currently 10, and the number of injured is currently 7.
Update 9:39 pm: Officials have identified the shooter. He is said to be 26 years old, and while released to the public, Elite Daily is choosing not to publish his name at this time.
We will keep you updated as more reports come in.
*Editor's note: The original title of the article stated there were at least 15 dead, but more recent reports have stated the number is 10.