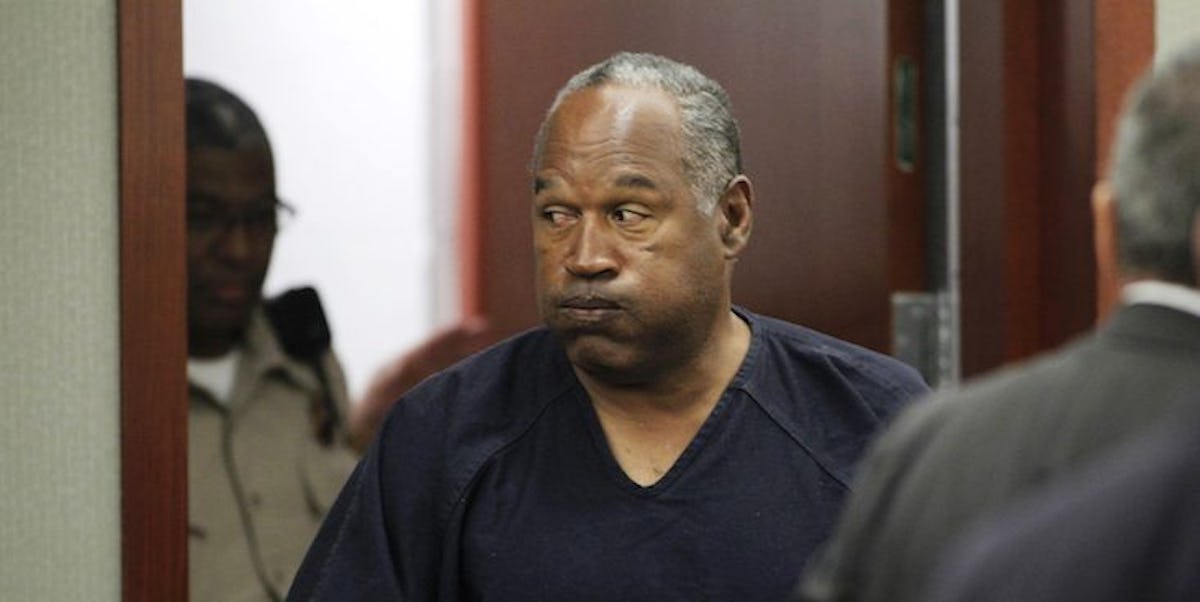 This One Quote From The OJ Simpson Parole Hearing Has Twitter Freaking Out
Steve Marcus-Pool/Getty Images
OJ Simpson, who at this point is debatably more famous for his legal troubles than his three-decade old football career, had his parole hearing on Thursday, July 20, and the world was watching.
During his parole hearing, Simpson, who was convicted in 2008 on multiple robbery charges and has spent the past nine years in prison, offered stories and anecdotes during questioning by the Nevada parole board. He talked about the 2007 incident which landed him in jail, when he and several other men, some of whom were armed, went to a hotel room to retrieve sports collectibles that Simpson claimed had been stolen from him. Simpson also claims that he did not know the men were armed.
And one thing he said during the hearing… bothered people.
"No one ever accused me of pulling a weapon on them," Simpson told the panel in his defense of the incident. "I would never pull a weapon on anybody."
Simpson was talking about the 2007 incident and professing that he was unarmed in the altercation, but with his legal history, it was a little out-of-place.
Simpson was notoriously accused of and tried for the violent stabbing murder of his ex-wife, Nicole Brown, and her friend, Ron Goldman. Though he was acquitted of the charges in 1995 and has maintained his innocence, there are still many who believe Simpson is guilty of the crime.
So saying that he's never been accused of pulling a weapon on anyone raised some eyebrows.
Some people got serious about it.
And some let it slide on a technicality.
Simpson also stated that he'd spent a "conflict-free" life.
He said that he's "not a guy that ever got into fights on the street."
Many pointed out that he had been accused of fights at home.
Simpson was accused of domestic violence towards his then-wife, Brown, on multiple occasions, including one 1989 incident that landed Brown in the hospital. Simpson pleaded no contest to a charge of spousal abuse following the altercation, the New York Times reported, but during the civil trial for the deaths of Brown and Goldman, he claimed that he had never struck or beat his wife.
Many called the "conflict-free" line out.
Some even tweeted images (which we are not including here) of Brown's injuries.
No matter what the parole board decides, it looks like the court of public opinion holds strong.