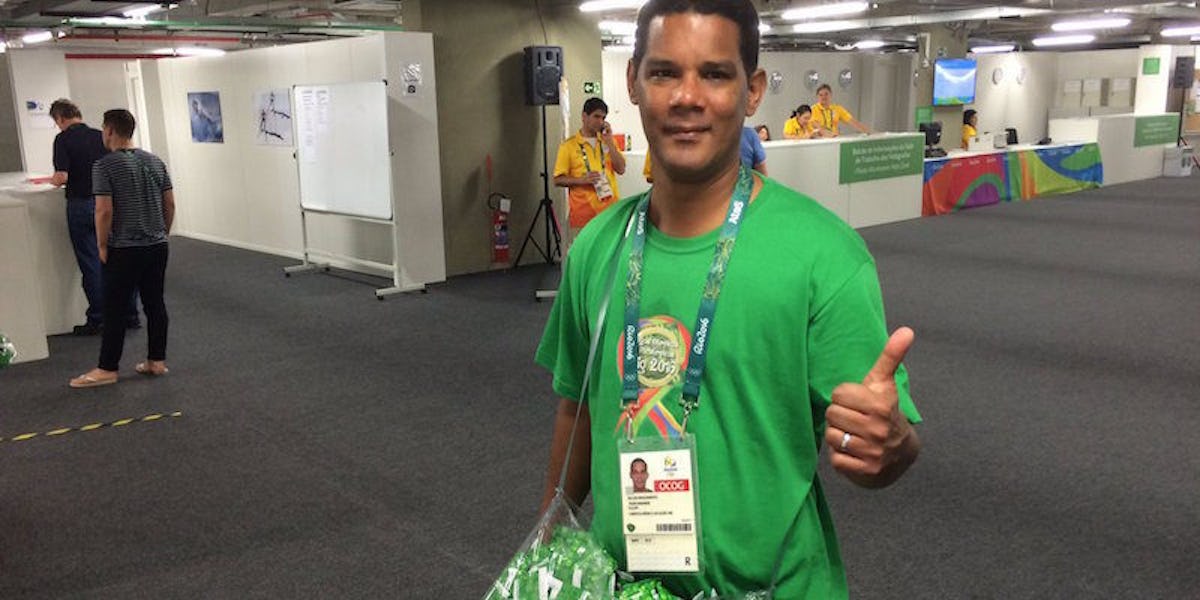 Olympians Have So Much Sex, This Guy's Job Is To Carry A Bag Of Condoms Around
Twitter
So, as I've reported here and here and here, Olympians just can't stop having sex with each other — and the International Olympic Committee is extremely worried about it.
They're worried because of Zika, which is thriving in Rio and has officially been declared a Public Health Emergency of International Concern by the World Health Organization.
In order to curb the possibilities of Olympians becoming infected and infecting others, the IOC has purchased 450,000 condoms just for the games.
I did the math, and to use them all up, each Olympian would have to have sex 43 times. And that number includes the people who ride horses and stuff, who are obviously not mating with anyone in the Olympic village anytime soon. (Sorry, that was rude, I should really stop horsing around.)
And the IOC is still scared. Because, apparently, the Olympic village is essentially just a non-stop, two-week long, super orgy.
In 2008, goalkeeper Hope Solo said she'd "seen people having sex out in the open, getting down and dirty on grass between the buildings."
In 2012, in London, the athletes tore through (bad word choice) through over a 100,000 condoms in the first week, leading to an emergency order for more. The IOC is doing everything it can to stop this from happening again.
So all that stands between us and a Zika pandemic is (ULTRA RIBBED FOR HER PLEASURE) latex. Oh, and handjobs.
Which means that there are people who have the extremely important job of just giving Olympians condoms.
Eric is one of those people.
Reporter Rodger Sherman found this condom slinger and Tweeted out this photograph of him.
And now, as Buzzfeed pointed out, everyone on Twitter can't get enough of him, which is understandable. They also all happened to go ahead and make the exact same joke, one after another.
Personally, I'm just thinking about what the job listing for this position was. Here is a guess.
HUMAN CONDOM DISPENSER Requirements: quick learner, proactive, works well with others, 2-plus years of experience in not getting girls pregnant, must be proficient in Excel.