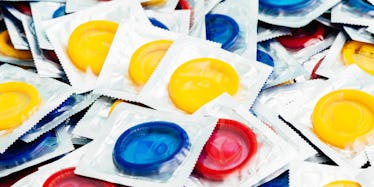 Pornhub Is Giving This Away To Olympic Athletes Who Used All 43 Free Condoms
Shutterstock
If you didn't know, the Olympics are basically, as one spectacular journalist put it, an international ploy to "gather the most physically fit people in the world for a non-stop, two-week-long, super orgy." (That journalist was me.)
Yes, the Olympic village, where the athletes stay for the duration of the games, is infamous for how much sex goes on there.
In 2008, goal keeper Hope Solo said she'd "seen people having sex out in the open, getting down and dirty on grass between the buildings," and in 2012, there were reports Grindr kept crashing because of the sudden increase in demand from the Olympic village.
It's mayhem.
And the International Olympic Committee (or IOC) is extremely scared, seeing that the Zika virus, which is thriving in Rio, can be transmitted sexually. And it should be. I mean, we are sending millions of people from all over the globe to congregate in the Zika capital of the world (it's essentially the first act of a horror movie about humans fucking up).
It's officially been declared a Public Health Emergency of International Concern by the World Health Organization.
To combat this the IOC supplied 450,000 condoms to the Olympic village. Although this number is extremely high, in previous Olympics, there had to be emergency orders of more condoms when the athletes used them all up by the first week.
Now, there are around 10,000 athletes competing in this year's Olympics. That means, in 17 days, each athlete has to use 43 condoms to get through all the condoms the IOC provided.
Well, Pornhub, the website everyone you know visits in secret, decided to, as the saying goes, "get in on the action."
The giant website has officially announced, according to a press release, "a brand new health initiative to help fight against the spread of Zika in Rio during the upcoming 2016 Summer Olympics."
The website is calling it the "Ooohlympics." Apparently, it didn't like "Olympdicks."
The campaign, as Pornhub describes it, is "two-fold":
First, Pornhub will be providing free membership to its high-definition, on-demand streaming platform, Pornhub Premium, exclusively to residents of Rio de Janeiro (Olympic athletes and visitors included) through the duration of the Olympics.
Yes, in order to fight Zika, Pornhub will be giving everyone free porn subscriptions -- because you know what makes you not want to have sex? Watching people having sex.
The company continued,
Second, to jumpstart the campaign, Team Pornhub will invade Rio on August 5th and 6th and hand out Zika protection kits consisting of bug spray, tissues and lube as well as actual Pornhub Premium gift cards.
Now, I'm not sure how I feel about a Porn company using what may become a global pandemic to advertise its "big titties and friendly buttholes" business, but at least it's helping.
On Pornhub's landing page, it will include important information about the virus, as well as HOT MILFS NEAR YOU.