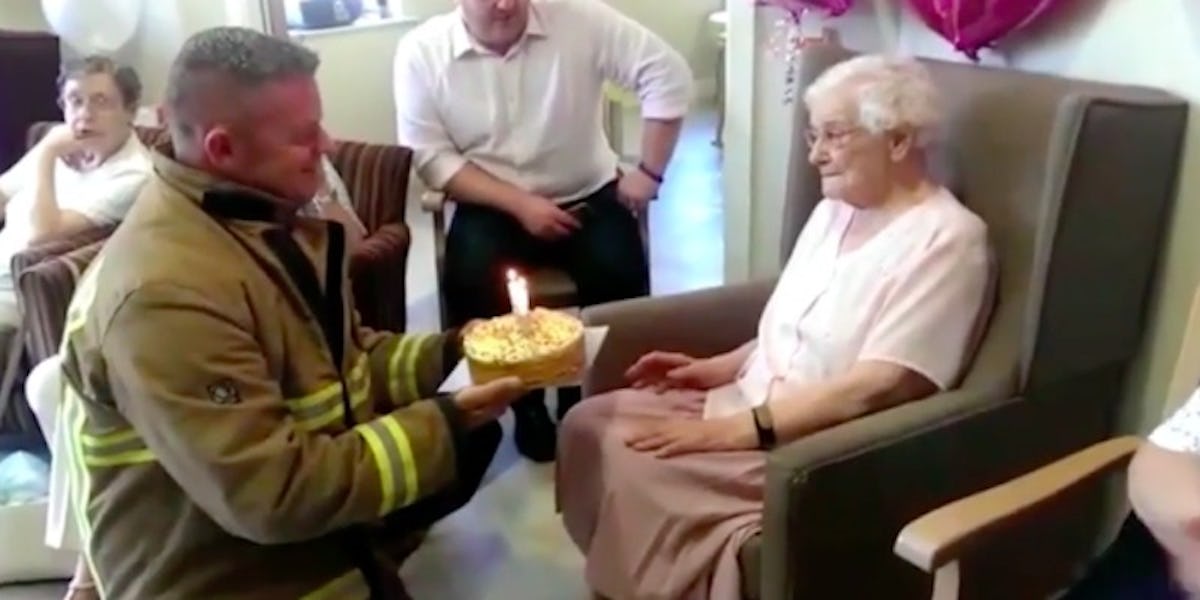 105-Year-Old Woman Wanted A Hot Firefighter For Her Birthday And She Got One
Metro
International hero Ivena Smailes had one request for her 105th birthday.
She wanted a cake delivered to her by a firefighter with tattoos.
Hero. Told you.
Smailes lives at the Addison Court Care Home in Crawcrook in the United Kingdom, where she's known as Aunty Ivy.
Debra Carter, who works at the home, told Chronicle Live,
On her bucket list this year she wanted a cake delivered by a fireman with tattoos. We've managed to find one and the fire brigade have been fantastic about it; they were arguing over who was going to climb the ladder and deliver it to her.
The Tyne and Wear Fire and Rescue Service made Smailes' dream come true. The manager of the service group, Dave Escott, told the Chronicle,
When the care home contacted us with the request to deliver Ivena's 105th birthday cake we were only too happy to help her celebrate this momentous occasion.
Carter noted this is not the first time Smailes made a funny request for her birthday celebration.
Apparently, Smailes likes challenging the home staff to do something kind of ridiculous. Last year, for instance, she tried to get the staff to climb a tree.
Smailes's birthday celebration went well to celebrate the start of her 105th year.
A hunky, tattooed firefighter climbed up to a higher floor and entered through a window to deliver a birthday cake to Smailes. The cake had "105" written out in candles.
He held the cake for her as her party guests sang "Happy Birthday." Smailes smiled as she expertly blew out the candles. She's been doing this for 105 years, after all.
The firefighter wasn't the only entertainment at Smailes's birthday party. She reportedly had a local dance studio performance, a singer and even a buffet, too.
Carter said Smailes also celebrated by taking her first-ever selfie.
Even at 105 years old, there's still something new to try out.
Citations: This 105-year-old woman got to tick off a pretty racy bucket list birthday item (The Independent), Holy smoke - this 105 year old Gateshead woman had her dream come true thanks to a burly fireman (Chronicle Live)