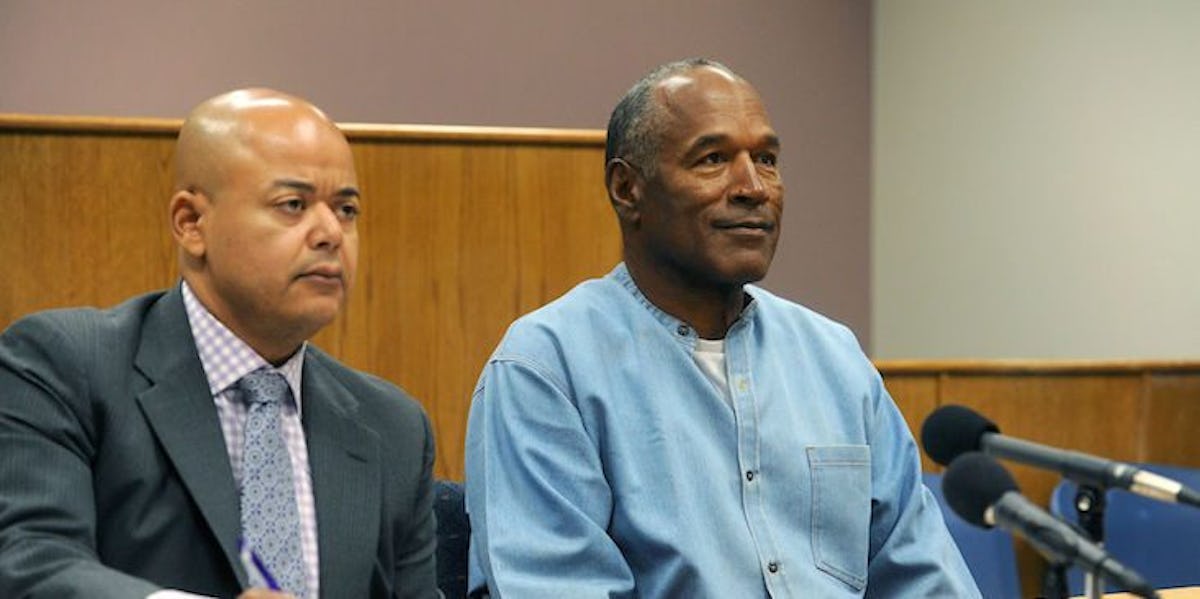 OJ Simpson Got Parole, So Of Course Twitter Went Wild With Reactions
Pool/Getty Images
On Thursday, July 20, after serving almost nine years of his 2008 sentence for kidnapping and robbery, among other charges, ex-football star OJ Simpson has been granted parole, and Twitter is having all the feelings about it.
The verdict came after a highly anticipated hearing in Carson City, Nevada, where four commissioners heard his case. He was originally convicted on 12 charges and sentenced to 33 years, but after serving his time thus far as a model prisoner, he might be getting out of prison as soon as October.
Minutes after the announcement came, tweets began rolling out with the hashtag #TheJuiceIsLoose and #OJSimpsonParole.
Though this hearing had to do with an entirely different case, many people were commenting on the parallel between Simpson's 1995 acquittal for the double-murder of his ex-wife Nicole Brown Simpson and Ron Goldman. ESSENCE posted a video from the 1995 trial:
Some users focused on the statement that Simpson had made in the original trial, about his intention to help find the actual killer of his ex-wife.
The elephant in the room hinges on the original 1995 acquittal, which hung over the day's events and stirred up new conversations about the divisive topic. Questions about race and the criminal justice system came up. Several people tapped into this in reacting to the news.
Some people specifically compared this parole hearing verdict to the case of George Zimmerman, who fatally shot Trayvon Martin in 2012 and was acquitted in 2013.
Avoiding the controversy and focusing instead on the legality of the parole hearing independently of all the other fanfare, some users shared their thoughts about whether granting Simpson parole was the right thing to do.
Perhaps most entertaining of all were the tweets of gifs about Simpson preparing to be released from jail.
And because you need humor in a moment like this, none other than Comedy Central delivers.