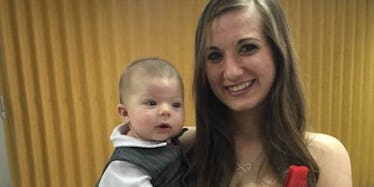 Young Mom's Last Words After She's Shot By Jealous Ex Will Break Your Heart
Facebook
The devastating final words of a 23-year-old mother helped lead police to her killer and missing infant.
Amanda Mangas was murdered by her jealous ex, 27-year-old James Ramey, after he forced his way into her father's house in Delta, Ohio, early morning on March 14, WTOL reports.
Sheriffs who rushed to the scene found Mangas with a bullet wound in her chest.
The officers recalled the dying mother's final heartbreaking words:
Where's Winston?
Winston Ramey, Mangas and James' 10-month-old son, was no longer in the house.
Police issued an Amber Alert around 7:30 am and say Ramey kidnapped the infant — who he was not permitted to see — after he shot Mangas.
Mangas was treated at the scene when sheriffs arrived and was rushed to the UMTC where she was pronounced dead.
Authorities soon realized Winston wasn't the only one missing — Mangas' stepmother was no longer in their home.
It's been reported she was also taken by James and was being held against her will.
With the help of the Amber Alert, police were able to track Ramey down. They found him at 10 am in Fulton County, Indiana, about 150 miles away from the crime scene. Both Winston and Mangas' stepmother were unharmed.
Police believe he may have been traveling to Chicago where he his mother lives.
Delta Police Chief Nathan Hartsock credited the help of the community in tracking Ramey down. He said,
There were several calls that came in [from] people who had contact with Mr. Ramey, so we were able to track him. With the size of the community, we did have multiple officers here my department working. But if it wasn't for assisting agencies, this would have been much slower process.
Apparently, Ramey threatened Mangas one month ago and said if she left him, he would kill her. Mangas then issued a protection order against him.
Even so, her jealous ex took action on Tuesday, one day after Mangas posted on Facebook that she was in a relationship with another man.
MailOnline reports Ramey posted a concerning comment on Facebook three days before the murder that read,
I don't LOVE her like I used to, so to get back at me she know she gotta use you... but what she don't know is this s*** gonna bruise you too...
The killer was booked at Fulton County Jail in Indian where he is being interviewed by an FBI agent.
He has thus far been charged with aggravated murder. However, police say additional charges will come.
Citations: Violent boyfriend 'murdered his ex-girlfriend one day after she started a new relationship' then got arrested because she used her dying breaths to name him as the killer (MailOnline), Woman shot and killed in Delta had protection orders against ex (13 ABC), Infant in Amber Alert safe; Mother killed, father charged with murder (WTOL)