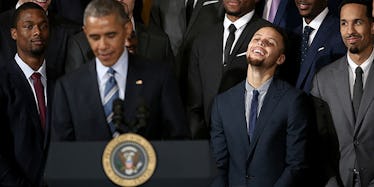 Obama's Photographer Trolls Trump With Adorable Throwback Pic Of Steph Curry
Win McNamee/Getty Images
Steph Curry and the Warriors' NBA Finals win is the latest material Barack Obama's former photographer has used to troll President Donald Trump.
On a day during which rumors circulated that the Warriors organization would reject an invitation to visit Trump's White House, former Chief White House photographer Pete Souza posted a throwback pic on Instagram of Obama together with Curry.
Rumor about the Warriors and the White House have been spreading.
The rumor that the Golden State Warriors would essentially boycott a visit to the White House made its rounds on Twitter after the team's title-clinching win on Monday night.
The idea? Players on the team had "unanimously" decided to avoid a White House visit.
The Warriors organization pushed back against those rumors, however.
In a statement posted by San Jose Mercury News' Warriors beat reporter, Anthony Slater, the team said it was focused on celebrating its championship, had not received an invitation from the White House and would make a decision on visiting "when and if necessary."
The Warriors have made past statements about Trump.
In reports corroborating the rumors, statements made by Warriors personnel about President Trump were cited. Indeed, multiple players have had strong words for Trump.
In January, David West said,
All the tactics he used to get elected are the very things that someone like me, who works with youth on a consistent basis, are the things we try to talk our young folks out of being.
Speaking on the president's travel ban, head coach Steve Kerr told reporters,
We're really going against the principles of what our country's about. And creating fear, it's the wrong way to go about it.
In February, Curry responded to Under Armour CEO Kevin Plank calling Trump an asset to the country, telling the San Jose Mercury News,
I agree with that description, if you remove the 'et' from asset.
Ultimately, the repeated comments from Warriors players about the president is what made the rumors of their boycott plausible.
Souza has been trolling Trump regularly.
That Pete Souza seemingly pounced on the rumor post the throwback picture of Obama and Curry is no surprise. The former White House photographer has routinely posted photos of Obama related to current events.
In May, Souza posted a photo of Obama's quiet reaction to successfully passing the Affordable Care Act. Around the same time, Trump had just celebrated the passing of the American Health Care Act through the House of Representatives with a festive press conference in the Rose Garden.
Considering the news of the Warriors potential boycott of the White House, Souza's post was right on time.