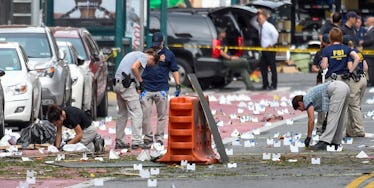 'Act Of Terrorism' Suspects Arrested In NYC As More Explosives Found In NJ
REUTERS
The FBI has arrested several people in connection with the New York City bomb explosion that ripped through 23rd Street and Sixth Avenue in Chelsea on Saturday night, authorities say.
The suspects were stopped as they drove along the Belt Parkway in Brooklyn on Sunday night.
Investigators believe they had come over the Verrazano Bridge from Staten Island.
An FBI spokesperson said,
No one has been charged with any crime. The investigation is continuing.
New York State Senator Marty Golden posted on Instagram,
Update from the NYPD: About an hour ago, the FBI took several individuals into custody on the Belt Parkway in the area underneath the Verrazano Bridge, with a possible connection to the bombing last night in Chelsea.
Meanwhile, bomb squads were called out once again Sunday night, this time to a railway station in Elizabeth, New jersey.
Train services along the Northeast Corridor from Newark Airport and Penn Station were halted and passengers were stranded while the area was investigated.
Five devices were found hidden inside a backpack, the office of Elizabeth Mayor Chris Bollwage confirmed -- one of which exploded when a robot attempted to disarm it.
Although New York City Mayor Bill de Blasio did not label the explosion an act of terrorism, New York State Governor Andrew Cuomo seemed to feel differently Sunday night.
Probed whether he thought the explosion was an act of terror, Cuomo replied,
It depends on your definition of terrorism. A bomb exploding in New York is obviously an act of terrorism, but it's not linked to international terrorism. In other words, we've found no ISIS connection.
Speaking to reporters near the scene, the governor said,
Whoever placed these bombs we will find and they will be brought to justice, period. And they will be punished. We will not allow these types of people and these types of threats disrupt life in New York. This is freedom, this is democracy and we're not going to allow them to take that from us.
Cuomo added "we really were lucky that there were no fatalities."
All 29 injured in the blast have now been released from the hospital, and the governor stressed life will go on as normal in New York City.