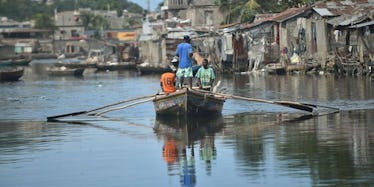 North Carolina Is Preparing For Hurricane Irma As Well
HECTOR RETAMAL/AFP/Getty Images
As Hurricane Irma rips through the Bahamas and heads towards Florida, residents in southeastern states are starting to get anxious. The hurricane, which has been downgraded to a Category 4 storm, is expected to hit South Florida on Sunday, Sept. 10, and could cause potentially devastating effects. Meanwhile, just a few states over, North Carolina is currently bracing itself for Hurricane Irma, and expecting the worst.
On Sept. 8, William Long, administrator of the Federal Emergency Management Agency (FEMA), urged everyone "from Alabama to North Carolina" to prepare themselves for a potentially catastrophic hit, saying, according to Reuters,
Hurricane Irma continues to be a threat that is going to devastate the United States in either Florida or some of the southeastern states. But when exactly would the hurricane land in North Carolina?
According to The Weather Channel, Irma is set to approach the Carolinas on Monday, Sept. 11. While North Carolina residents should definitely monitor the progress of the storm and stay prepared, it's possible that Irma will have already been downgraded to a tropical storm by the time it arrived.
Regardless, there's still plenty of dangers to be wary of – including heavy rainfall, major costal flooding, dangerous rip currents, power outages, and landslides. North Carolina Gov. Roy Cooper has declared a state of emergency and cautioned that no one should "let [their] guard down." He said,
Even though the current forecast no longer shows us directly in the cross-hairs, that could shift and we still need to be prepared. Even a glancing blow can cause damage from such a powerful storm.
As Irma heads towards Florida and the Carolinas, residents can expect what meteorologists call "the dirty side" of a hurricane – otherwise known as the side you definitely, definitely do not want to be on.
Robert Garcia, head meteorologist at the National Weather Service, told the News Observer,
The difference between the dirty side and the 'clean side' in this case, is probably just the difference between regular and diet soda. Even if we get fortunate with Irma, folks should definitely be preparing for the worst and hoping for the best.
In the meantime, North Carolina is getting prepared.
If Irma does crash through North Carolina, it will be the second hurricane to hit the area in two years. Last October, Hurricane Matthew slammed the state, killing 31 people, displacing thousands  and caused $4.8 billion in damage. One year later, residents are still reeling.
Kenny Flowers, a member of East Carolina University's office of innovation and economic development, told The New York Times,
There are neighborhoods that have not been rebuilt yet and some that won't be rebuilt because of the devastation. Houses that are lost forever.
Irma is something of a superstorm in comparison to Matthew. While the latter blew into the Carolinas with wind gusts of up to 177 miles per hour, Irma's gusts are currently clocking in at 210 miles per hour. And if that's not enough of a terrifying comparison, just check out the difference in size between Hurricane Irma and Andrew, which destroyed Florida in 1992:
Irma is currently the most powerful storm to hit the Atlantic ocean – sustaining a record breaking wind speed of 185 mph, according to USA Today. Twenty-three people have been confirmed dead as a result of the storm, according to The Guardian, and a potentially historic mass evacuation is happening in Florida right now. Thousands have taken to the roads to escape before the storm hits, with some drivers waiting hours at gas stations to fill up their cars. For those who have decided to stick it out, grocery stores are being cleaned up, as residents stock up on supplies.
Stay safe Florida, and the Carolinas! The rest of the world is with you in spirit, gnawing our fingernails off and hoping for the very best.