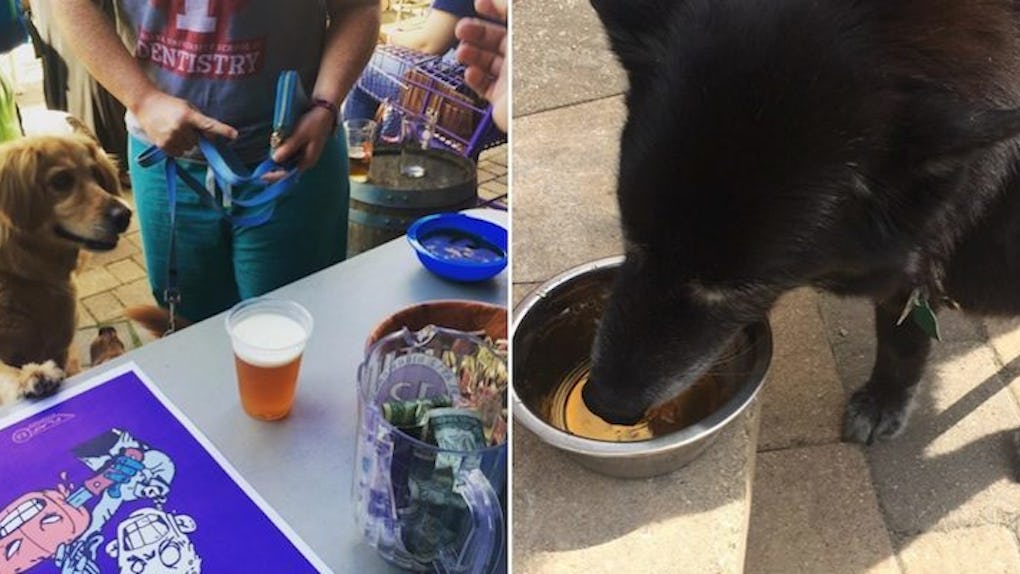 Instagram
Non-Alcoholic 'Dog Brew' Lets Man's Best Friend Drink A Beer With You
If you ever felt bad for making your dog fetch you a cold beer but never allowing him or her to enjoy the drinking experience with you, Flat12 Bierwerks has a brew for you.
The Indianapolis brewery created Dog Brew, a nonalcoholic, noncarbonated craft beer specifically for dogs because "Blue 'It's 2 AM And That Effing Dog Won't Stop Barking At The Goddamn' Moon" was taken.
Humans hoping to get a taste, be warned: It probably tastes terrible to anybody who walks on two legs.
The IndyStar reports the drink is made out of meat bones and trimmings donated from a local meatery and smokehouse, as well as carrots, potatoes and brewer's yeast.
After three hours of simmering, wort, the foundational mixture of beer, is added to the batch and then the whole concoction is put in a keg.
The brewery's marketing director, Valerie Green, said Flat12 is a very dog-friendly work environment, and she is pretty confident everyone who works there has a dog.
Because of that, Dog Brew has a test market full of customers who seem to be big fans of the drink.
The humans of Flat12 also tested Dog Brew themselves and compared it to a soup broth.
The beer was introduced to crowds on Friday at the brewery's pet adoption and supply drive for Heaven After Hell Rescue animal shelter.
Each cup of the doggie beer cost just $1 and all proceeds went to local animal shelters.
This is probably the best way to bro-down with man's best friend.
Citations: Dog Brew Dog Friendly Beer At Flat 12 Bierwerks Lets You Share A Non-Alcoholic Pint With Your Pup (Bustle)