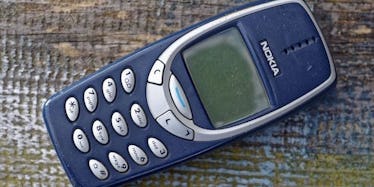 Nokia Is Making A Comeback With 3 New Phones, So Prepare To Re-Live Your Teens
REX/Shutterstock
Toss your iPhone in the trash because the most iconic cell phone of all time is making a shock comeback.
Get excited, people, because the Nokia 3310 — the indestructible, ever-reliable phone (oh yeah, you could play the legendary Snake on it, too) — is getting a revamp, according to leaker Evan Blass of VentureBeat.
Because apparently we've come absolutely nowhere in the last 17 years.
You have a lot of questions. Why? How much? When I can get my hands on one of these beauties?
Patience.
The 3310 was released in 2000, but the last decade or so has been unkind to Nokia, who used to be the top dogs in the cell phone game.
They got a bit lost in the smartphone market and the brand was sold, while its phones are now made by Finnish company HMD Global Oy.
And it's HMD who are pulling the biggest throwback of the century by creating a "modern version" of the heroic Nokia 3310, along with three other Nokia phones.
It will be launched at the Mobile World Congress in Barcelona, Spain, later this month.
Apparently, they reckon it would make a perfect backup phone in case your fragile smartphone shatters in your hands or runs out of juice.
The 3310, of course, could probably survive being shot out of a cannon into a brick wall, and its battery lasted for something like 15 years.
It's not going to break the bank, either, with starting costs at €59 ($62).
However, at the moment it's unclear where the phone will be sold.
In case this doesn't appeal to you and you're worried about Nokia, they actually do know it's 2017, as the other three devices are all smartphones.
They include the already revealed Nokia 6, as well as the Nokia 5 and Nokia 3 — which will all be powered by Android.
The Nokia 3, the most basic of the phones, will cost €149 ($157), the Nokia 5 comes in at €199 ($210) and the Nokia 6 will be €249 ($263).
Citations: HMD Global will launch the Nokia 3, 5, and 6 at MWC, plus a 3310 homage (VentureBeat)