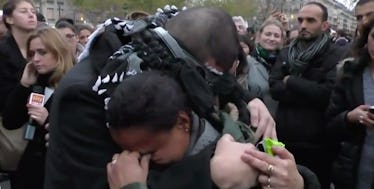 6 Positive News Stories To Restore Your Faith In Humanity
It has been a rough few days for the world.
Last week, gunmen stormed into a hotel located in Mali's capital, Bamako, and held over 170 people hostage.
A few weeks ago now, Paris lost 130 lives in a gruesome series of terrorist attacks, while Beirut fell victim to a pair of suicide bombers.
It's been a jarring time for all of us -- whether we were in any way connected to the cities affected or not.
I am beginning to find my heart leaping at the sound of any news alert on my phone, for fear of hearing of another explosion, another innocent life lost, an unfair blame or another threat of attack.
Keeping up with current events these days can be harrowing.
We've all been there.
While staying aware is important, practicing self-care and keeping anxiety in check are equally necessary.
You are not obligated to harbor fear in your heart, and you don't owe that to anyone, especially yourself.
It doesn't make you selfish or intentionally ignorant to tune out the news if it's weighing down on your mental health.
Sometimes, we need to be reminded of all the good that is still around us, no matter how unsettling of a picture humanity may paint itself to be.
There's always a silver lining.
On that note, I've compiled a few silver linings -- in the form of hugs, laughter and puppies -- just in case your timelines were getting a little too terrifying.
So exit out of social media, take a deep breath and enjoy these heartwarming headlines from the past few days.
They will give us all a much-needed dose of the warm fuzzies.
1. I trust you.
In the aftermath of the Paris attacks, a Muslim man stood blindfolded in Paris' Place de la Republique, in-between two placards that said, "I am Muslim and I am labeled as a terrorist. I trust you, do you trust me? If yes, HUG ME."
Despite going through the worst terror attack in the city's history, Parisians have opted to not give hasty stereotypes the upper hand. They embraced their fellow Frenchman heartily.
The man later took off his blindfold and proclaimed his desire to send a message to not let fear dictate how to treat another person.
I'm not crying. You are.
2. Your parents love you.
Last week, comedian and eternal life coach of all 20-somethings, Aziz Ansari, posted this goofy selfie with his dad, coupled by a comment on how his dad spent most of his vacation time acting in "Master Of None," purely to spend more time with Aziz:
Not to beat a dead horse here and sorry if this is cheesy or too sentimental, but if your parents are good to you too, just go do something nice for them. I bet they care and love you more than you realize.
So take this time to give a shout out to your parents and remind yourself of their love.
Even just a phone call is at the top of every parent's "treat yo' self" wishlist.
3. Flowers over guns.
A little boy gets interviewed by a French reporter following the terrorist attacks in Paris. He wants to leave the city because of "mean, mean bad guys with guns."
His dad by his side steps up to showcase some serious parenting goals. He consoles his son by saying, "They may have guns, but we have flowers. "
Ugly-cry your hearts out here. Haters be damned.
4. Home is where the heart is.
Virginia became the first state in the US to effectively eradicate homelessness for veterans.
The state has housed over 1,400 since October of last year, and has officially provided homes for those who have served.
One state down, 49 more to go.
5. When all else fails: pit bulls, puppies and pecs.
Various non-profit organizations have banded together and created their own compilations of pit bull calendars featuring pits living their best lives.
While some of the organizations aim to list out potential adoptees in their calendars, most just want to celebrate an adorable breed that often gets mistaken for being unruly and aggressive.
They've worked their tails off to ensure 2016 will be a much-loved and cuddled year for pit bulls.
What can be more stress-relieving than pictures with pit bulls at tea parties or hanging out with hot, shirtless firefighters?
6. Take a look at these taxi drivers strutting their stuff.
New York's taxi drivers can't wait to give you a ride, and they want you to know.
A bunch of cabbies ditched their daily rounds for a day and proudly flaunted their dad bods, pizza addictions and steadfast New York spirit in this 2016 calendar of hotties.
This is NSFW, due to the occasional "stick shift."
If nothing else works, it's okay to throw in the towel and close all your open tabs.
The constant influx of news and political debates on social media can get overwhelming.
Everyone has different ways of handling stress, and taking a brief hiatus to escape the world is a-okay.
So, wind down with a bubble bath, wind up with some jumping jacks or just hug a human or a fluffy animal who loves you.
No matter what, we're all survivors, and we're going to keep this world spinning.