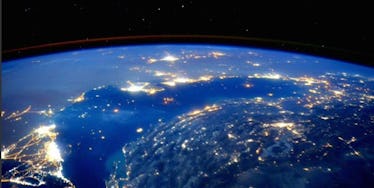 There's A Really Amazing Reason To Look Up At The Sky On New Year's Eve
The solar system's brightest planets will be visible in the early hours of New Year's Eve.
According to Space.com, anyone willing to literally get up at the crack of dawn on Thursday, December 31 and the days following will be able to see Jupiter, Mars, Venus and Saturn in a curved, diagonal line, topped off by the moon.
The planets will be arranged along the ecliptic, or the line the sun and moon appear to move across in the sky.
Throughout the week, the moon will travel along this line and end up next to each planet, allowing the planets to be visible with the help of binoculars or telescopes.
Another brilliant show awaits stargazers on New Year's Day when Comet Catalina will reportedly come just 0.5 degrees from Arcturus, one of the brightest stars in existence.
The comet and the star will first become visible a little after midnight and reach their highest points in the sky by sunrise on New Year's Day.
These eye-gasms, however, may very well pale in comparison to the meteor shower that will occur on January 4, National Geographic reports.
Should one look toward the handle of the Big Dipper on this morning, 60 to 120 shooting stars are expected to appear every hour during the last few hours before sunrise.
All of these wonders can probably only be seen by the naked eye if the mornings to come are greeted with clear skies.
If you don't want to risk missing out, looks like it's time to buy a telescope.
Citations: Bright Planets Moon Put on New Years Show (Space.com), This Weeks Night Sky New Years Comet and a Meteor Shower (National Geographic)