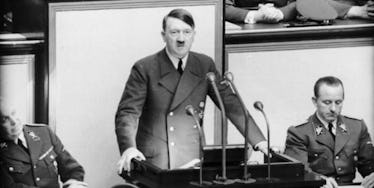 New Details Of Hitler's Last Moments Revealed By Bodyguard Who Found Him Dead
Wikimedia Commons
Adolf Hitler's final moments have been revealed by a bodyguard who was in the Führer's bunker when he died.
Private photos belonging to Rochus Misch, as well as the Nazi's memories of the war, have been published in a new book, "Hitler's Last Witness."
These include the moment Misch, who referred to Hitler as "The Boss," discovered his dead body, MailOnline reported.
Martin Mace, the book's commissioning editor, said Misch watched as Hitler was told his army was trapped in Berlin, meaning they were about to lose the second world war.
Hitler and his new wife, Eva, walked into their study, Mace said, adding,
He saw Otto Günsche, the Führer's adjutant, close the door behind the newly married couple. Güsche told Misch that the boss was not to be disturbed. Hitler shook hands with Günsche and told him that all soldiers were released from their oath of loyalty.
Misch said Hitler told Günsche he did not want his corpse to be abused as Benito Mussolini's had been, asking him to cremate his body.
After the couple died, Misch entered the room. He told Mace,
My glance fell first on Eva. She was seated with her legs drawn up, her head inclined towards Hitler. Her shoes were under the sofa. Near her… the dead Hitler. His eyes were open and staring, his head had fallen forward slightly.
On the fateful night, April 30, 1945, Misch was the telephone operator in the underground bunker.
Before they died, Misch claims he heard Eva and Joseph Goebbels' wife, Magda, talking about how they wanted to die with their husbands.
Misch, who died in 2013 at age 96, was the last surviving member of the dictator's inner circle.
He was a member of the SS, and until the moment he died, never admitted to having any knowledge of the Holocaust.
As well as having a deep respect for Hitler, he claimed he never heard the Führer talk about the destruction of the Jews.
Citations: The last witness: Bodyguard who found Hitler and Eva Braun's dead bodies and once walked in on Fuhrer's mistress in a flimsy nightie reveals intimate details of their private lives in candid photos (MailOnline)