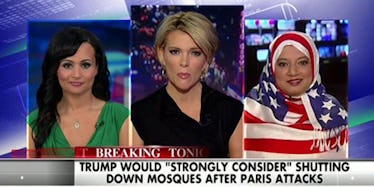 Muslim Woman Schools Megyn Kelly On What It Means To Be An American (Video)
Fox news
Last night, infamous Fox News reporter Megyn Kelly revealed she thinks the constitution is bullsh*t. Well, basically.
In the wake of last week's terror attacks in Paris, the right-wing newscaster hosted a debate to discuss the future of Islam in the US. The discussion was fueled in large part by your drunk uncle at Thanksgiving's recent suggestion the government shut down American mosques to ward of religious extremism.
Kelly, who has been called ignorant more times than anyone can count, invited Trump campaign spokesperson Katrina Pierson and Republican Muslim Coalition founder Saba Ahmed to duke it out on her show.
Though not meant to participate in the debate herself, Kelly voiced her own unpopular opinions at the first opportunity, saying,
Even experts like Andrew McCarthy have said mosques tend to be hotbeds for political activity, not as much religious activity.
Kelly also erroneously claimed, "only the mosques" breed extremist leaders.
Fortunately for the 1.6 billion non-extremist Muslims of the world, Ahmed (decked out in an American flag-printed hijab), did a stellar job shutting down Kelly and Pierson, schooling them on both the concept of a mosque ("Megyn, we go to mosque to pray") and the core tenets of the United States Constitution.
With her thoughtful, dignified responses, Ahmed won the debate by a landslide (and made Kelly and Pearson look like uneducated fools in the process).
Simply put, this footage is the best thing to come out of the Fox News studios —  ever.
Watch and learn, below.
Citations: This Muslim Woman in a Hijab Just Schooled Fox News on What a Patriot Looks Like (Mic)