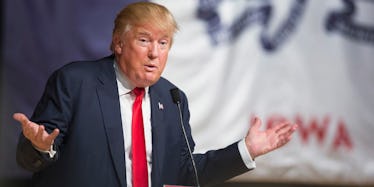 Trump Would Consider Closing Certain Mosques In Wake Of Paris Attacks
Getty Images
In an interview on Monday, Donald Trump said he would "hate to do it" but would "strongly consider" shutting down mosques in the US.
While this comment was prompted by this weekend's terrorist attacks in Paris, it's not the first time Trump made such comments.
Last month, Trump said he "absolutely" would close mosques to fight ISIS. The month before that, Trump told a supporter he'd be looking into getting rid of Muslims in America.
Mosques are frequently targeted in hate crimes in the United States. Anti-Muslim hate crimes are five times more common now than they were before 9/11.
There are millions of Muslims living like any other people in the United States, which was founded with a right to freedom of religion.
As of last week, Trump was leading the polls for the Republican presidential candidate.
Citations: Trump says he would consider closing certain mosques (AP), Donald Trump Says He Would Be Open to Closing U.S. Mosques to Fight ISIS (The New York Times), Donald Trump defends Islamophobia: "People who knocked down the World Trade Center didn't fly back to Sweden" (Salon), Nationwide Anti-Mosque Activity (ACLU), Trump surges among likely Republican primary voters: Reuters/Ipsos poll (Reuters)