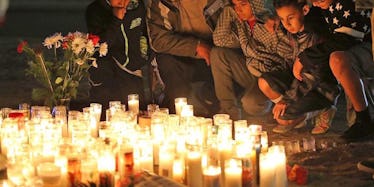 Muslim Americans Raise Over $120K For San Bernardino Victims' Families
Getty Images
A collective of American Muslim leaders and groups raised over $120,000 for the families of the victims of the San Bernardino shooting.
Fourteen people were killed and at least 17 injured in the attack.
The attackers were husband and wife Syed Rizwan Farook and Tashfeen Malik. The pair had reportedly been radicalized under the rhetoric of ISIS.
In response to the attack, Faisal Qazi, a neurologist and cofounder of MiNDS, and Tarek El-Messidi, founder of the nonprofit CelebrateMercy, began a collection for the victims' families on LaunchGood.
Speaking on behalf of the collective of American Muslim leaders, the page said,
We wish to respond to evil with good, as our faith instructs us, and send a powerful message of compassion through action.
The page also referenced a line from the Quran that reads,
Repel evil by that which is better.
Many Muslim leaders and groups, including the Islamic Shura Council of Southern California, the Islamic Society of North America and MentalHealth4Muslims, endorsed the campaign, voicing their support.
In a statement on the collection page, El-Messidi said,
This united American Muslim campaign aims to reclaim our faith from extremists by responding to evil with good, by rebuilding what they destroy. We know that no amount of money will bring back loved ones of the victims' families, but we hope that it at least alleviates some financial burdens in the wake of this horrible tragedy.
The raised money is going to the victims' families to help pay for expenses. It is being distributed by MiNDS.
As of Wednesday morning, the campaign raised more than $120,000.
Citations: Killers Were Long Radicalized, F.B.I. Investigators Say (The New York Times), Muslim Americans Raise Almost $100K For Victims Of San Bernardino Shooting (Huffington Post)