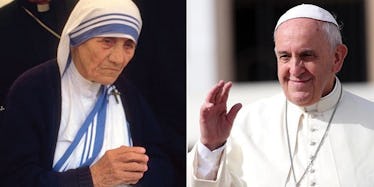 Mother Teresa Will Be Recognized As A Saint By Pope Francis
Mother Teresa will be officially declared a saint, the Vatican announced yesterday.
In the Roman Catholic religion, a saint is someone who lived a holy life and performed miracles while still on Earth.
A person cannot be canonized, or made into a saint, until after his or her death, and in most cases, two official miracles are needed before someone can be officially declared a saint.
Mother Teresa's first miracle was recognized by the late Pope John Paul II around 2003 when she was beatified.
In that case, a 30-year-old woman from Kolkata, India (formerly Calcutta) said she was cured of a stomach tumor after praying to Mother Teresa. The Vatican could find no medical reason for the woman's tumor's disappearance, and accepted it as a miracle.
On Thursday, Pope Francis formally recognized a second miracle allegedly performed by Mother Teresa.
A Brazilian man claims he was healed of brain tumors after family members prayed to the famed nun.
Again, no medical explanation for his recovery could be determined by the Vatican, and the situation was declared a miracle.
Mother Teresa, who died in 1997 after dedicating her life to helping the sick and impoverished in Kolkata, will probably be officially canonized by Pope Francis on September 4, one day before the anniversary of her death.
Citations: Mother Teresa to become a saint after Pope Francis recognizes 2nd miracle (CNN), Fr. Brian on the miracle of Mother Teresa of Calcutta (AsiaNews), Mother Teresa miracle approved, sainthood set for September (Religon News Service)