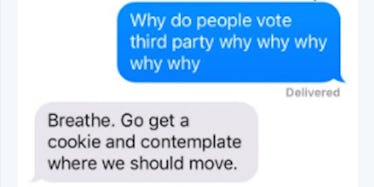 These Sweet Post-Election Texts From Moms Are The Calming Words You Need Today
Twitter
Yesterday was one of the most nerve-wracking events of the year.
As votes poured in from polls across the country, a lot of Americans anxiously awaited to hear the results of the presidential election.
Seriously: This was more nerve-wracking than watching the season finale of "Game of Thrones."
Although it was a close race in the end, it was Donald Trump – not Hillary Clinton – who conquered the ballots of America.
As you can imagine, a lot of people were pretty shocked at the fact that Donald Trump won the election.
Now, people are basically losing their shit over the news that Trump is going to be the next president of the United States.
If you're like most people, you probably did the only logical thing one can do in this situation: You had a nervous breakdown and called your mom, while frantically packing your bags for Canada.
Because let's be real: When life has you feeling down – or, you know, terrified about what's going to happen to America with Trump in the White House – you can always count on mom to say the right thing and make everything better.
Plus, everyone knows moms are a hell of a lot cheaper than therapists.
Apparently, a lot of people received words of encouragement from dear old mom last night, and shared all sorts of texts on social media that are guaranteed to make you tear up.
I need my mom right now. pic.twitter.com/mGy7h1otK4 — Amanda Fama (@AmandaFama_) November 9, 2016
If you ask me, these calming texts (and a good cry) are exactly what we all need to soothe our frazzled nerves right now.
Take a look at the pictures below to see these sweet texts from moms about the election... and grab a box of tissues while you're at it.
Trust me: You're going to need them.
Hi mom, just wanted to let you know I've decided to drop out of college and live a simple life in Siberia with my BFF Obama.
Cookies and Canada are always the solution.
Trump may be president, but look on the bright side: At least your mom still loves you. I love you, no matter what.... except, of course, if you voted for Trump.
At least your mom doesn't let you down like America does.
A little alien probing sounds like nothing compared to enduring the pain of seeing Trump become president.
Hi honey, don't forget to pack underwear before you flee the country.
Everything is going to be fine. We live in Maryland... not one of those other asshole states who voted to put Trump in office.
Listen to your mother, and don't let anyone hold you back from achieving your goals.
Seriously, mom: How could you hit me with the "Ok" text when Trump just won the election?
No matter what happens, never forget all the good values and lessons your mommy taught you.
When shit hits the fan, you just have to throw a lampshade on your head and party like it's the end of the world.
Moms are always a good judge of character.
There's nothing mom's kisses can't fix.
x
America is the worst group project partner... EVER.
You tell 'em, mom.
Fine, honey: You can go to Canada. But you have to bring your dear mom with you.
Come on, mom: You know this is not how it works. I'm supposed to text you first, and then you're supposed to reassure me. Remember?
Hey mom, sorry to ruin your vacation, but we have to move to a different country ASAP. Let me know if you have any suggestions. Love ya.
Aren't we all?
Maybe you can convince that Australian guy to take us all back to his country with him... just saying.
To put it lightly, honey, your kids are going to be fucked.
Citations: The moms of America are sending really sweet texts right now (Mashable)