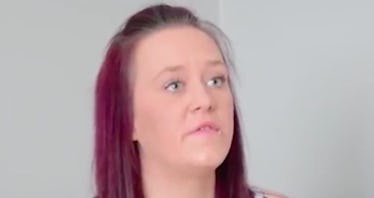 Mom Shares Scary Call From Man Who Threatened To Rape Toddler 'Until She Dies'
MailOnline
A terrified mother has revealed how she's received disturbing phone calls from someone threatening to rape and kill her sick three-year-old daughter.
Sarah Wane, 24, of Lancashire in the UK, said she was bombarded with several phone calls for approximately nine hours on February 24 from a man describing how he planned to attack her family.
In one video, the man can be heard asking,
When's the c*** gonna die? I'm gonna stamp on its little hole in its heart.
Wane claims the man had also threatened in a previous phone call to rape her daughter, Amelia, "until she dies." She says she did not record this.
According to MailOnline, Wane said,
It's absolutely disgusting. I have cried about it. How can someone say something that cruel about a sick little girl? I can't be dealing with this.
Wane's daughter was born with a rare heart condition which restricts her from being able to speak or feed herself.
The distraught mother continued,
Things are hard enough with Amelia's heart problems and to hear someone talk about your daughter like that is so upsetting. When they rang up they were saying the most evil things. 'I'm going to rape your daughter so hard she dies,' stuff like that. They knew my daughter had a hole in her heart.
Wane believes the caller is an associate of a 20-year-old former friend of hers, who allegedly admitted to being at the scene when the calls were made.
The former friend said he heard the man as he made the threats, but was "disgusted" by them.
Wane said not many people know about her daughter's condition, thus leading her to believe the caller is someone who knows her, or a friend of someone who knows her.
The terrified mother claims her former friend visited her house in early February, at which time they had a fall-out over money.
After she called him to discuss the issue, she said the abuse and threats started to come through from a different man on February 24.
Wane, who cares for both Amelia and her six-year-old son, Joshua, said,
We were so shocked at first that we didn't know what to think. These people know where I live and they're dangerous. They need to be stopped.
The owner of the phone used to call Wane said he had allowed her former friend and some other acquaintances to borrow it that evening.
The former friend said,
It wasn't me. I was the one crying in the background. I borrowed some money off Sarah and we had an argument over that. It was absolutely disgusting what was said to her about the baby and that. Disgusting. I can't tell you who it was, but it wasn't me.
A Lancashire Police spokesman said of the case,
We were called at 11:30 pm on Friday, February 24 from an address in Preston with reports that somebody had received threats of a violent nature. We attended the next morning and spoke to the person who called us and gave them some safeguarding advice.
Citations: 'I'm gonna stamp on its little hole in its heart': Terrified mother, 24, reveals calls from a troll who she says vowed to kill her ill daughter, three, and threatened to RAPE her (MailOnline)