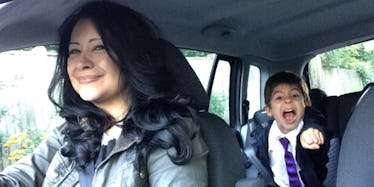 Mom Sends Tragic Last Text To Family Before Dying In Fire With Son And Husband
Facebook
A mom texted her sister-in-law to say goodbye hours before she was found dead alongside her young son and husband after a fire.
Adriana Nunes, her husband, Tiago, and their six-year-old son, Tiago Junior, died as a result of the blaze in their rural home in Surrey, England.
The discovery of their bodies on a double bed came after Adriana sent cryptic messages to Tiago's sister Cecilia Nunes, The Sun reported.
In one message, the 41-year-old cleaner, originally from Chile, appeared to be angry the family had not contacted her for her birthday.
Cecilia said,
She texted me. The message said "goodbye," but I deleted it because I was very upset. Another said "thank you very much family for my birthday." I think that's strange because we didn't send any birthday message. I can't believe what happened.
Police and firefighters are still investigating the cause of the fire, and have not ruled out arson, murder, suicide or an accident at this stage.
The alarm was raised when colleagues of Portuguese gardener Tiago, 30, went to the family's home when he didn't turn up for work.
They discovered the fire and alerted fire crews, who found the bodies shortly after 11 am on Tuesday.
Adriana's brother Guilherme Alexandre Herrera Cruz wrote on Facebook, "My heart hurts too much."
The family had lived in the cottage in the English countryside for nearly four years.
Tiago Junior attended North Downs Primary School in nearby Leigh, and principal Jane Douglass told parents in a letter,
This is very likely to be a difficult time for us and we will all need to support each other.
In a Facebook post last week, Adriana appeared to be homesick, writing, "Miss my beautiful Chile."
A spokesman for Surrey Police added,
The property was found to have suffered serious fire damage and three people – two adults and a child – were found deceased. Next of kin have been informed.
Citations: Mother killed in fire alongside husband and son 'texted family saying goodbye' (Metro)