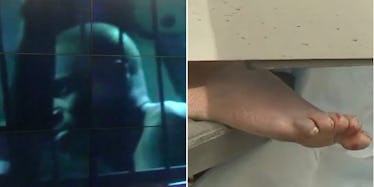 Mom Raped In Front Of Kids Is Saved By Daughter After Sneaking Phone To Her
Click2Houston/ABC 13
A man forced himself into a neighbor's apartment before making a woman strip and raping her in front of her children, according to police.
Bryce Scott, who is accused of carrying out the attack in Houston, Texas, only fled the scene when the victim snuck her phone to her 12-year-old daughter, who called 911.
The 42-year-old was found hours later, still naked and hiding under a truck, and was arrested on suspicion of aggravated sexual assault.
Television cameras captured his foot as he was detained.
Police said Scott was armed when he entered the home. He then forced the mom-of-two to undress in front of her daughter and her six-year-old son.
Sergeant Reginald Porter of the Houston Police Department told Click2Houston,
He forced the victim to undress in front of her children, and then he raped her.
He added the woman passed her phone to the girl, and told her in a foreign language to call the police.
Officers received the call for help from the girl at about 4 am on Thursday.
Scott, a dad-of-two who lives in an apartment above the victim, allegedly fled when police arrived at the complex.
Sergeant Porter said,
He heard the commotion at the door and ran out the back door without any clothes on.
Officers were able to identify him as he left his clothes and ID in the victim's apartment.
Neighbors said the woman, who only recently moved into the block, knew Scott as their children were often seen playing together.
They also said they would be on heightened alert as a result of the shocking incident. Some even described Scott as "nice," adding they were shocked by the allegations.
Scott is in custody, while the victim, who is said to be distraught, will go to a local hospital to be evaluated.
Citations: Naked man found running from scene of sexual assault, police say (Click2Houston)