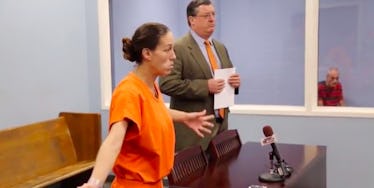 Mom Let 5-Month-Old Daughter Drown In Creek Because 'She Was Crying'
The State
A mom who took her baby daughter to a creek and let her drown has been jailed for 27 years.
During her sentencing hearing, Sarah Toney, 34, could be heard saying, "I miss her so much" as she cried.
South Carolina Circuit Court heard the mom from Conway, South Carolina took her 5-month-old daughter, Grace, to a creek and lost her in the running water, WSPA reported.
Judge Stephen John sentenced Toney, saying,
By her actions, she ended the life of a 5-month-old child, Grace.
He added he believed Toney knew right from wrong when she took Grace to the creek.
The infant was affectionally dubbed "Baby Grace" by members of the community who united to search for her and later honor her memory.
Prosecutors had pushed for a life sentence in the case.
Prosecutor Scott R. Hixson said,
Hers is a lifelong history of drug use resulting in the death of a child. In this case, we appreciate the long hours and dedication of law enforcement and first-responders of Horry County to bring justice to this little baby.
Toney's lawyer, Eric Fox, explained his client's background to the court. It included a family history of sexual abuse, suicide and drug use. This led to her own drug problems.
A toxicology report after Toney's arrest in 2015 revealed several drugs in her system, including methamphetamines and opioids.
When police officers asked her why she had taken her baby into the water, she initially told them it was because Grace was crying. But later, she admitted she did it because "she was trying to find God," People reported.
During the hearing, forensic psychologist Emily Gottfried said she had conducted a three-hour interview with Toney and found she was fit to stand trial. She insisted Toney should be held criminally responsible.
Toney plead guilty to homicide by child abuse, which has a minimum sentence of 20 years in prison.