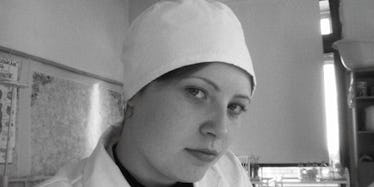 Mom Falls Into Molten Chocolate At Factory And Dies: 'Only Her Legs Were Left'
VK
A young mother has died after falling into a vat of molten chocolate at a candy factory in Russia.
Svetlana Roslina, 24, is believed to have dropped her cell phone in the huge mixer at Sergiev Posad confectionery factory in Fedortsovo, which isn't too far from Moscow.
The mother of two was unable to free herself from the chocolate, and was therefore minced to death, according to local sources.
The Telegraph quotes a source within the factory as saying,
She was minced, only her legs were left.
Another person claims Roslina fell as she was pouring a bag of flour into the mix.
A different source said,
The girl was dragged in when she was trying to empty a sack.
A woman who lives in the area claims to have seen a hearse arrive at the plant on the evening of Roslina's death.
According to DailyMail.com, she said,
A young woman died at the confectionery plant in Fedortsovo. I live here and can see the plant out of my window. At 6 pm, there were police cars and a hearse. People are saying that she dropped her phone in the tank and tried to get it but was dragged in there. Witnesses say that only her legs were sticking out.
The police are currently investigating her death. No one has been arrested in connection to the incident.
In 2009, a 22-year-old factory worker died after falling in a vat of boiling chocolate at a factory in New Jersey.
Vincent Smith II was in the vat for 10 minutes before rescuers freed him at the Cocoa Services Inc. plant. He died after coming into contact with the mixing machinery inside the 8-foot deep vat.
Rescuers had to turn off the machinery before they attempted to pull his body free. Smith was a temporary worker at the factory.
Citations: The Telegraph, DailyMail.com