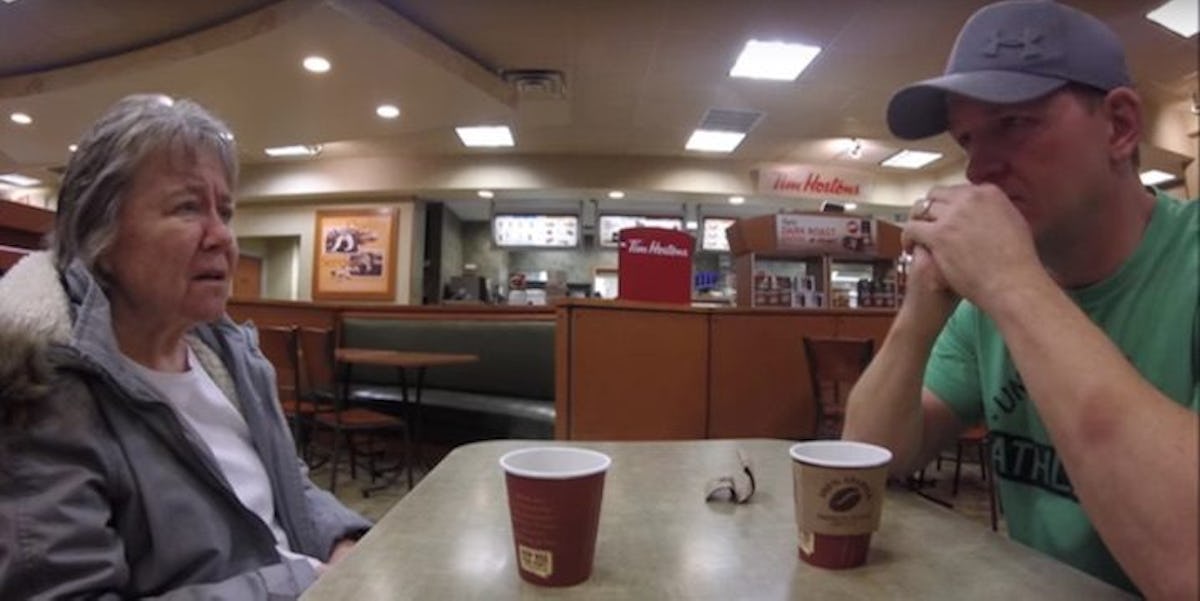 Guy Films Heartbreaking Moment Mom With Dementia Forgets Who He Is For 1st Time
YouTube
This is the heart-wrenching moment a man breaks down in tears after his mom forgets who he is for the first time.
Joey Daley, 45, has been documenting his mother Molly throughout her journey with dementia in a series of videos on YouTube, MailOnline reports. Molly has been suffering from the disease for two years and counting.
On February 1, the 45-year-old posted a heart-wrenching video of his most recent visit with his mom, which showed Molly forgetting who he was for the first time since she was diagnosed.
At the end of Joey's video, the duo spends time reminiscing in the comfort of what appears to be Molly's home.
To help remind her of her loved ones, Joey pulls a picture frame off the wall that shows photos of various family members. After he places the pictures onto the bed, Molly points to the collage and starts naming off family members who she remembers.
About halfway through the frame, Molly stutters and claims she doesn't know somebody is — but it was a picture of Joey.
Eventually, Joey points to a picture of himself and says,
Who is that?
Seconds later, Molly turns the question around, and says,
Well, who do you think it is?
Joey, who is seemingly heartbroken but staying strong for his mother, replies with,
Is that you your son?
After staring intently at the photo of Joey, she says,
I don't know that, either.
Earlier that day, Joey took his mom to a shopping mall where they sat at a dining table at Tim Horton's. There, they reminisced even more to see what Molly could recall.
During the video, Joey asked his mom if she knew who his family was, and she said she doesn't even know if she knew who he was.
When Joey asked his mother if he looked familiar, she responded with "I don't know. I think so."
After leaving his mom's home later that day, Joey broke down into hysterics inside his car and said it was the "hardest day of his life."
Trying to hold back the tears, he said,
She knows my name, but doesn't know who I am.
Speaking through his tears, he continued,
I tried so hard to get her to tell me who I was with photos and she just doesn't know. I feel like she just died. I wasn't expecting this when I woke up this morning. I thought this would come a lot later.
At the end of the video, Joey says he wishes his mother would call him "her son."
Although the journey is an emotional one, Joey will continue posting videos with his mother. He spoke to MailOnline and said,
I am exposing my weaknesses and vulnerabilities, but I wanted to bring awareness to dementia, and that is more important.
Citations: 'The worst day of my life': Heartbroken son films the moment his mother with dementia forgets who he is for the first time in emotional video (MailOnline)