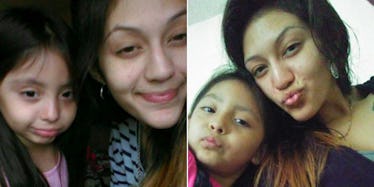 Mom Accused Of Brutally Murdering 5-Year-Old Daughter Smiles In Creepy Mugshot
Facebook
Krystle Villanueva could face the death penalty after being accused of brutally murdering her 5-year-old daughter in their Texas home on Thursday.
The 24-year-old allegedly stabbed her daughter to death and is now being held on a bond of $1.1 million at the Hays County Jail, DailyMail.com reports.
When her mugshot was taken, she smiled.
The woman, who appears to be highly disturbed, was charged with capital murder as well as a second-degree felony of aggravated assault with a deadly weapon.
Her father-in-law, Eustorgio Arellano-Uresti, told police he had stopped at her home to make lunch when he saw Villanueva walk into her bedroom with a knife.
Moments later, he heard screams of pain coming from Giovanna Larae Hernandez, Villanueva's daughter.
Upon hearing the cries, Arellano-Uresti reportedly tried to stop the attack. He attempted to take the knife out of her hands, but Villanueva retaliated, stabbing him in the forehead and back.
When he fled the household to escape, witnesses allegedly saw the crazed mother chasing him with an unloaded shotgun.
According to Spectrum News, the SWAT team arrived at the scene when Villanueva was rinsing off in the shower.
According to police reports, her daughter was found dead in the bedroom with multiple stab wounds.
Arellano-Uresti was taken to the hospital and released after he was treated.
It's been reported Villanueva suffered from drug addition throughout her life. Her sister claimed she went to rehab in 2015 for substance abuse.
A toxicology report has not yet been released to confirm whether or not she was on drugs when she stabbed her daughter to death.
Sabrine Sifuentez, Villanueva's friend, told KXAN about her drug problems. Referring to Villanueva, she said,
She went to a rehab. She did a 90-day program and she came out good. She was doing good. She had a job... She tried to get help. I don't know if she just relapsed, or I really can't say what happened.
Villanueva could face an entire life in jail or even the death penalty as a consequence.
One thing is certain, though, and it's that mugshot is seriously disturbing.
Citations: 'Drug addict' Texas mom smirks in her mugshot after being charged with stabbing her five-year-old daughter to death and attacking her father-in-law who tried to stop her (Daily Mail)