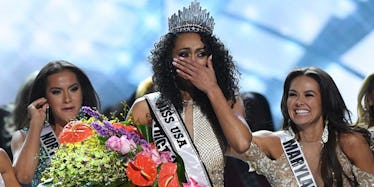 Miss USA 'Clarifies' Statement: 'I Do Believe Healthcare Should Be A Right'
Getty Images
Miss USA has changed her tune.
During a Tuesday morning appearance on ABC's Good Morning America, newly crowned pageant winner Kara McCullough made an U-turn on her recent comments about health care.
McCullough told GMA co-host Michael Strahan,
I would like to just take this moment to truly just clarify -- because I am a woman, I'm gonna own what I said. I am privileged to have health care, and I do believe that it should be a right, and I hope and pray moving forward that health care is a right for all worldwide.
Here's the video of her exchange with Strahan:
The last time McCullough had spoken about health care -- Sunday night during the Miss USA pageant -- she drew negative reactions online.
On that occasion, she was asked whether health care was a right or a privilege. At the time, McCullough responded,
As a government employee, I'm granted health care. And I see firsthand that for one, to have health care, you need to have jobs, so therefore we need to continue to cultivate this environment so that we're given the opportunities to have health care as well as jobs for all Americans worldwide.
McCullough's interview on Tuesday morning, however, implied that she was misunderstood. The former Miss Washington D.C. seemed to stress that she felt privileged to have health care, not necessarily that health care in itself is a privilege or luxury.
On the other hand, a more cynical view of her interview might lead one to believe that McCullough simply saw the negatives responses her initial answer generated and decided to appease those who were piling on the pressure.
McCullough, a scientist at the US Nuclear Regulatory Commission, was the second Miss D.C. to win the Miss USA crown in as many years.
Oh, and if you're wondering what's the difference between Miss USA and Miss America, don't worry. You're not the only one.