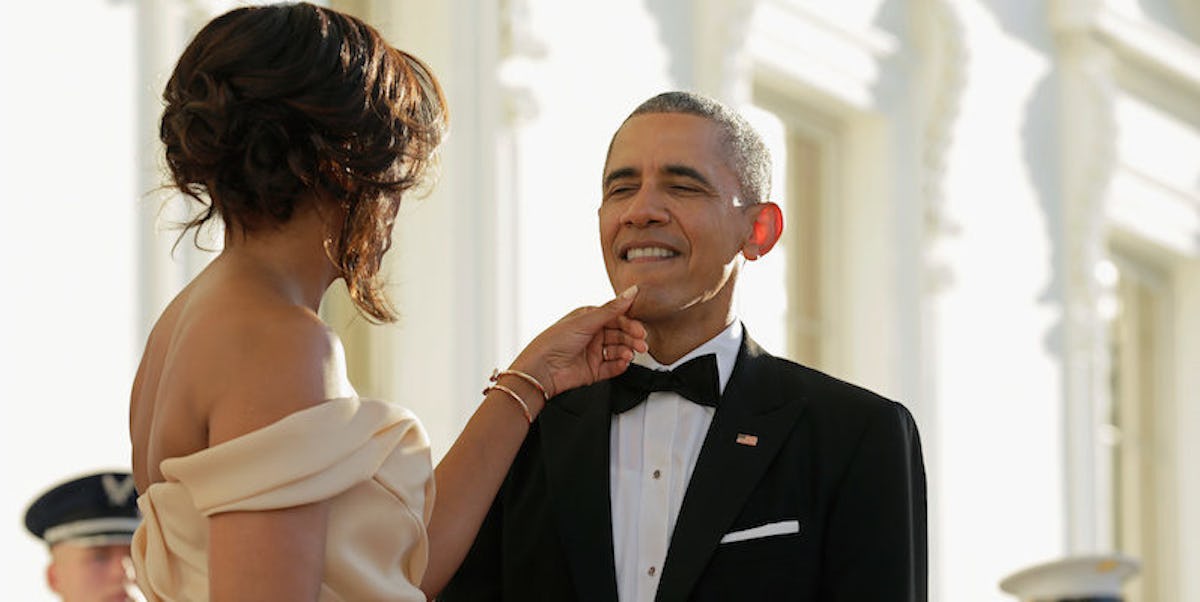 Michelle Obama Just Posted The Most Adorable Message For Barack's Birthday
REUTERS
Today is Barack Obama's 55th birthday, and despite the fact being president for eight years ages you faster than Gary Busey in a wormhole, he still looks great.
To commemorate Barack's name day, Michelle tweeted out the sweetest birthday message to him.
To be extremely sentimental for a moment, the Obamas, to me, seem like one of the first presidential couples that are actually actively in love with one another.
Now, yes, maybe I'm a naive idiot, and, yes, maybe when the pressure is that high on any marriage, the relationship is bound to fracture and fail, but to me, they genuinely seem to like each other. On the other hand, George and Laura seemed like they hadn't spoken in 30 years, and Hillary and Bill, well, they had their "problems."
Anyway, here are some examples to remind you what that killer smile Michelle is talking about looks like.
Man, that's like the Ferrari of smiles. (For any wizards reading this, Ferrari is a type of muggle car.)
For someone whose job is more stressful than accidentally sneezing at an Orc wedding (oh, if you didn't know, Orcs find this very disrespectful and will cannibalize any and all who do so on their special days), he somehow smiles a lot.
If I had his job, I would spend 99 percent of my time shout-crying in the bathroom mirror (and the other 1 percent of my time shout-crying in the bedroom mirror).
Happy birthday, Barack.