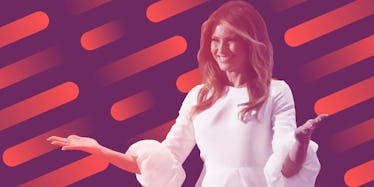 This Is What Melania's Speechwriter Has To Say About Whether She Plagiarized
REUTERS
As if it wasn't already clear Melania Trump's speech was plagiarized, according to the definition of "plagiarism," Trump's speechwriter just officially confirmed it.
So, there.
The admission came from Meredith McIver, an "in-house staff writer" for the Trump organization who put out a statement on Tuesday because she "did not like seeing the way this was distracting from Mr. Trump's historic campaign."
In her statement, McIver described the process through which she and Melania worked on the speech, saying,
Over the phone, she read me some passages from Mrs. Obama's speech as examples. I wrote them down and later included some of the phrasing in the draft that ultimately became the final speech. I did not check Mrs. Obama's speeches. This was my mistake, and I feel terrible for the chaos I have caused Melania and the Trumps, as well as to Mrs. Obama.
Here's the statement in full.
Now, we'd be remiss if we didn't note a few of things.
First, an actual adult went on TV yesterday and quoted Twilight Sparkle from "My Little Pony" in an effort to convince us we were the crazy ones for thinking the speech was plagiarized. Like, that happened.
Second, the move is confusing, since there wasn't much to gain from admitting it was plagiarism as anyone who's ever taken a college course knows it was.
Third, the Trump camp already made a pretty clear decision to play it off like nothing happened, and it's already day three of the RNC. The story is practically over; we all laughed already.
Most importantly, though, the admission literally makes no sense. McIver claims "not checking" Michelle Obama's speeches was her downfall.
Well, sure, that might have been the only problem, but in the statement, McIver also says Melania read passages of Michelle Obama's speeches to her, which McIver wrote down and included in Trump's draft for Monday night. So, she knew she was including another person's work.
It sounds downright unbelievable for a professional speech writer at this high of a level to be making that much of an amateur mistake.
This story is weird, man. Super funny, but definitely weird.