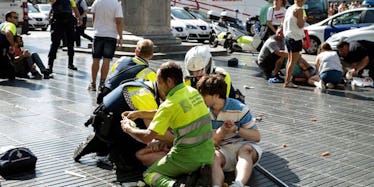 People Are Sharing Black Ribbons On Social Media To Mourn The Barcelona Attack Victims
Nicolas Carvalho Ochoa/Getty Images
Earlier today, in Barcelona, Spain, a white van drove straight into a crowd of people at Las Ramblas, a popular tourist spot in the city. The attack claimed the lives of at least 13 individuals so far, with over 100 more injured, according to CNN. Catalonian officials have also designated the attack as an act of terrorism. An outpouring have sadness, support, solidarity has swept over Twitter, with many people sharing black ribbons as a sign of support. Though, this certainly begs the questions of the meaning of black ribbons for Barcelona.
Traditionally, black ribbons are used as a sign of mourning. They're typically displayed following the death of an individual (or in this case, a group of individuals) as a symbol of remembrance. An outpouring of black ribbons was also seen following several other tragic events. For example, Google pasted a black ribbon to their homepage following the Charlie Hebdo terror attack in France.
It's also a similar gesture to wearing a black armband, which, in some cultures, is reportedly common for sports teams to wear following the death of a teammate or manager. Following today's Barcelona attack, FC Barcelona has stated their football team will wear black armbands to mourn the victims of the attack.
Now, black ribbons are filling up Twitter as people remember the tragic loss of innocent lives in Barcelona:
Though the attack is being treated as terrorism, ISIS has not claimed responsibility for the attack just yet. They have, however, claimed that the perpetrators were "soldiers of the Islamic state." CNN also reports Catalan President Carles Puigdemont has said police have two suspects in custody.
Following the news, Barack Obama responded to the Barcelona attack with a touching statement of solidarity, mourning the loss of the victims. President Trump also responded to the news, lending the United States' support to Spain. Though, Trump's response sparked controversy on Twitter, as people felt he was incredibly quick to call the attack terrorism (whereas he hesitated to do so following the recent incidents at the Neo-Nazi rally in Charlottesville, Virginia).
Our thoughts are with the victims of this senseless act of violence and their families. If you'd like to help the victims of the Barcelona attack, here are some ways to do so.