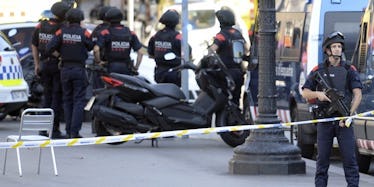 Everything You Can Do To Help The Barcelona Attack Victims Right Now
JOSEP LAGO/AFP/Getty Images
After a white van plowed into pedestrians along popular destination La Rambla in Barcelona earlier today, Aug. 17, 13 so far have died, and dozens more have been injured. Spanish officials are calling the incident a terrorist attack, and two arrests have been made. In the wake of this tragedy, many are wondering how to help the Barcelona attack victims.
Catalonian Minister of the Interior Joaquim Forn confirmed that 13 so far have died, but the death toll could rise, as at least 15 were critically injured in the attack. Eyewitnesses tell of chaos and confusion at the scene, where La Rambla and Plaça de Catalunya, two of the busiest spots in the second-largest city in Spain, meet.
The attack comes a little over a week after a similar attack at a white supremacist rally in Charlottesville, Virginia left one counter-protester dead and at least 19 others injured. Two car attacks were also carried out in France this week, one in the middle of Paris, killing one, and the other in a suburb of the city, injuring several soldiers.
The Islamic State has reportedly taken credit for the attack, according to Reuters.
Regardless of who committed the attack or why, right now, the people of Barcelona need help. Whether you happen to be in the Catalonian capital or you're abroad, there are plenty of things you can do to help those affected by today's attack.
If You're In Barcelona, Donate Blood.
Upwards of 50 people have been injured, some seriously, and local hospitals are calling for blood donations. Individuals between the ages of 18 and 65 who weigh more than 110 pounds are eligible to donate, according to Banc de Sang. Individuals who had hepatitis before age 12 and who currently have high cholesterol are still eligible to donate.
Don't Share Graphic Photos Of The Event.
Without trigger warnings or the ability to choose whether or not to see these graphic images, this can re-traumatize victims.
So while you should feel free to connect with people under hashtags such as #Barcelona and try to exchange information and condolences, please avoid posting what is basically torture porn.
Donate To The Red Cross.
Red Cross Española was on the scene helping victims immediately after the attack. They are continuing to help those affected, so make a donation in order to help them help Barcelona.
During Barcelona's Three Days Of Mourning, Show Your Support.
The city will observe three days of mourning, according to the AP. During that time, make it known that you support and love the people of Barcelona.
In the hours, days, weeks, and even months after a terrorist attack, survivors can experience a degradation to mental and emotional health. Research is starting to show that terrorism can cause severe psychological damage, and not just to those directly targeted. Just the simple act of being positive can go a long way.
One example of the outpouring of global love? The Eiffel Tower is going dark tonight.
Donate To Local Mental Health Nonprofits.
But even better than sending positive vibes? Donating to local mental health nonprofits and counseling centers. Universitat Autònoma de Barcelona has a Mental Health Research Network (CORE Mental Health). There are also centers such as NEST, a network of English-speaking therapists.
And there is an entire network of centros de salud mental in Barcelona. This last network takes on low-income clients, so they could especially use donations right now.
All of these mental health counselors will most likely be strained over the coming days and weeks as the people of Barcelona come to grips with what has just happened.