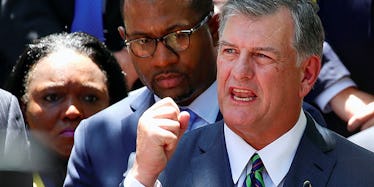 The Mayor Of Dallas Said What Most Politicians Would Never Say About Race
REUTERS
Dallas Mayor Mike Rawlings didn't hold back.
On Friday, Rawlings spoke at a vigil for police officers in remembrance of the five fallen members of the Dallas Police Department's force. He also took time, though, to unapologetically and bluntly speak about the underlying problem that racism has proved to be.
Here's a video clip from CNN of Rawlings' strong words.
Dallas Mayor finally had the balls to say what's real. Something so many politicians avoid admitting. THANK YOU SIR pic.twitter.com/M2MDo9G8P1 — WORLDSTARHIPHOP (@WORLDSTAR) July 9, 2016
While Rawling's words have been well reported, it's worth pointing out the sheer novelty of what he said.
Most politicians, regardless of where they lean, generally tend to play things safe when they talk about race. Consider Texas Lt. Gov. Dan Patrick, who ended up backtracking on comments he made on Friday, which blamed protestors for Thursday night's tragedy in Dallas.
And it's not a surprise; politicians usually seem to regress to the middle on these types of issues and resort to being passive. But, that's not what Rawlings did.
Not only did he talk about race -- which is really no great accomplishment, but a topic that people still treat like the boogeyman, nonetheless -- he went out of his way to take blame on behalf of his generation of politicians, and accepting blame is a true rarity in politics.
He said,
This is on my generation of leaders. It is on our watch that we have allowed this to continue to fester, that we have led the next generation down a vicious path of rhetoric and actions that pit one against the other.
And while people might want to nitpick if they really wanted to be critical -- the word "racism," for instance, was avoided -- there's still a simple truth about what Rawlings said: Most politicians wouldn't dare to do it.
Citations: Dallas Mayor Mike Rawlings: 'We Have Led the Next Generation Down a Vicious Path' (TIME), Texas official walks back remark calling Dallas protesters 'hypocrites' (CNN)