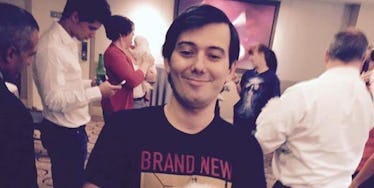 Martin Shkreli Lied To Investors: He's Actually As Broke As The Rest Of Us
Martin Shkreli is a liar, liar and his pants are 100 percent on fire.
Shkreli, the pharma bro we have all come to love to hate for infamously jacking up the price of an HIV medication from $13.50 to $750 per pill, was arrested earlier this week for securities fraud.
The arrest came as part of a federal investigation involving his former hedge fund, MSMB Capital, and his previous pharmaceutical company.
Shkreli has formally been charged in a federal indictment related to his time managing MSMB Capital and as CEO of biopharmaceutical company Retrophin, CNBC reports.
US Attorney Robert Capers tells CNBC,
As alleged in the indictment, Shkreli essentially ran his companies like a Ponzi scheme, where he used each subsequent company to pay off the defrauded investors in the prior company.
Essentially, Shkreli used each new company's profits to pay off other, unhappy, investors from his hedge fund.
Additionally, Shkreli is being sued in a related lawsuit by the US Securities and Exchange Commission. In the complaint, made public on Thursday, the SEC alleges Shkreli consistently engaged in "widespread fraudulent conduct," including misappropriating funds and lying to investors.
In one instance, a potential investor allegedly asked Shkreli about a fund's assets. According to the indictment, Shkreli told the investor MSMB Capital had $35 million in assets. In reality, MSMB Capital's accounts actually contained about $700 at the time, BuzzFeed News reports.
Through his press relations firm, Shkreli tells reporters he is confident he will be cleared on all charges. Dow Jones reported Friday Turing Pharmaceuticals is close to replacing Shkreli as its chief executive.
Citations: Turing names new CEO to replace Shkreli (CNBC), Martin Shkreli Allegedly Told Investors He Had $35 Million; He Really Had $700 (Buzzfeed News)