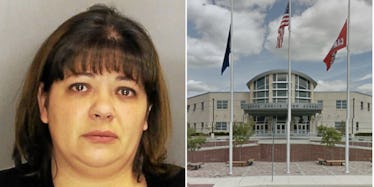 Married Teacher Gives Student Blowjob In Dog Park After Seducing Him With Cash
Upper Dublin Police Department/Google
A female teacher who lavished a high school student with gifts while forming an illegal sexual relationship with him is facing jail.
Rose Marie LiMuli, 40, has been found guilty of institutional sexual assault, relating to her relationship with a student at Upper Dublin High School in Fort Washington, Pennsylvania.
The former English teacher, a married mom of two, could be jailed for seven to 14 years, The Intelligencer reports.
Montgomery County Court heard she picked the 18-year-old student up and took him to a dog park where she gave him oral sex, and the pair had sex at his home.
Assistant district attorney James Price said,
It shows that a teacher cannot use the sanctity of a school to foster an inappropriate relationship with a student, no matter how old the student is.
The sexual assault charges involved one count of oral sex and one of sexual intercourse. LiMuli was cleared of 10 other sexual assault charges.
Their relationship took place between December 2015 and March 2016. Police began investigating the following month.
Initially, the student denied the relationship because he "didn't want her to get in trouble."
In a statement, he said he would hang out in her classroom with other students because "everyone was cool with her" and she would bring in baked goods, The Ambler Gazette reports.
As soon as he turned 18 in November 2015, LiMuli put her number in his phone — wrongly believing their relationship was legal because he was at the age of consent.
In addition to the sexual relationship, she bought him gifts including a dirt bike, clothes and alcohol.
He said,
She bought me anything I wanted, honestly. She was buying me stuff every single week. I caught on that she wanted something sexual out of everything she gave me. I didn't have any affection toward her. She was buying me stuff.
LiMuli claimed she never had sex with the student, and he was blackmailing her and threatening her family because she was in a relationship with someone else.
But she admitted to giving him cash and gifts to buy his silence.
Citations: The Intelligencer, The Ambler Gazette