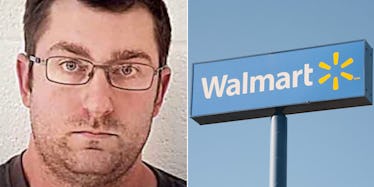 Deranged Man Uses Syringe To Spray His Semen All Over Women At Walmart
Police/ Shutterstock
After reading about the idea online and being inspired by it, Timothy Blake decided to fill up a syringe with his own semen and spray woman shoppers at a Walmart in Ohio.
Yes, you read that correctly: A man in Marietta, Ohio filled a syringe with his bodily fluids and squirted female shoppers... on the butt.
I'm not making this up.
According to CBS News, he's done it dozens of times, too.
After a few women came forward with similar reports about "creepy" Walmart Blake, he was charged on December 30 for pandering obscenity, sexual imposition and two counts of menace by stalking.
Apparently, the first woman came forward with her experience on November 2, claiming Blake was walking closely behind her when she felt a sticky and wet substance on her back and legs.
She reportedly rushed to the bathroom to see what the liquid was, and noticed Blake was still watching her when she walked out.
The next report against Blake was documented on December 28, by a completely different woman. She shared a similar story.
Based off the security footage from both disturbing incidents, Marietta Police was able to track Blake down by approaching his pickup and questioning him two days later.
The truck Blake was driving to Walmart allegedly belonged to an oil company he worked for, NY Post reports.
When the police questioned Blake, he allegedly claimed the sticky white substance was a mixture of egg and flour.
However, when police told him they'd have to run tests on the liquid, Blake confessed the sticky goop was actually his own semen.
To pull off the highly disturbing stunt, Blake claimed he would either masturbate in the bathroom at Walmart or his pickup truck.
Then, he'd fill the syringe with his man juice and start spewing the liquid onto innocent shoppers.
I'm gagging.
To make matters even worse, the sick-minded man claimed he aimed at women's butts because it was "his way of having sex with them."
On top of that horrific detail, it's been confirmed Blake has a wife. They were both on their way to dinner when police stopped Blake for questioning.
Blake's wife didn't know he had been committing the crime.
Although Blake claimed he only used his semen four times out of the "dozen" times he's done it, he was still arrested and put into jail with no set bond.