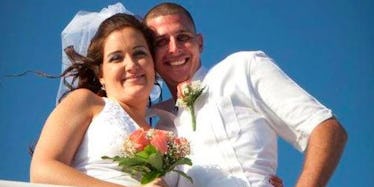 Man Speaks Out After Accidentally Killing Wife During Car Sex On Date Night
Facebook
A dad-of-two has been jailed for five years after his wife died in a car crash that happened while the couple was having sex.
Matthew Notebaert wept as Judge Laura Johnson described his wife Amanda's death as one of "the most senseless, tragic acts" she had ever come across, according to the Palm Beach Post.
The court in Palm Beach, Florida, heard the couple had been out drinking in March 2014 when they began having sex as Matthew Notebaert drove home.
Their SUV hit the bank of a canal and flew 30 feet into the air, landing on the other side. Amanda died at the scene.
During the emotional hearing, Notebaert described his wife as his best friend and said,
I miss her more than words can express.
The 33-year-old told the court their evening out had marked their first night on the town since the birth of their second child.
They had been drinking from a flask of Crown Royal whisky, and while heading home to Loxahatchee, Florida, they pulled over to get intimate, the court heard.
Notebaert said his wife was sitting on his lap as he continued to drive, leading to the fatal accident.
Investigators said he was driving at 55 mph in a 30 mph zone, while toxicology reports revealed he was nearly twice the drink-driving limit and marijuana was in his system.
The Palm Beach Post reported the case divided Amanda's family -- with her parents pushing for the maximum possible sentence for Notebaert, but her aunt arguing she loved him and wouldn't want him to be jailed.
Prosecutors admitted the maximum sentence of 10 years was too harsh a punishment, and he was jailed for five years.
Judge Johnson noted he had criminal history, including accusations of reckless driving and leaving the scene of a crash.
Amanda's family said the mom, whose children are now aged 12 and 3, loved to celebrate holidays such as Easter and Halloween, as well as vacations with her family.
Citations: Husband having sex with wife in fatal DUI crash gets 5 years prison (Palm Beach Post)