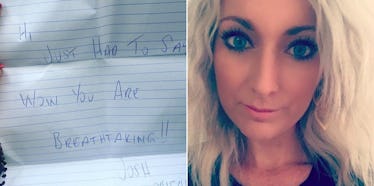 Man Who Left Romantic Note On Stranger's Car Outed On FB As A Serial Cheater
Instagram
There's nothing I'd love more than receiving an anonymous love letter in the midst of Valentine's Day.
If you don't feel the same way, I'm assuming you probably lack a heart or are already in a committed relationship (what's dating?).
Aleasha Bliss, a 32-year-old single mom from Australia, was lucky enough to find a love letter on her windshield on February 14, Daily Mail reports.
She instantly fell head over heels for her secret admirer, "Josh."
The handwritten letter reads,
Hi Just had to say, wow you are breathtaking!! Josh
How original! What a touching love letter! By golly, he even left his phone number.
Josh seems like dating material to me.
However, she quickly discovered "Josh" was a serial cheater and had already left the same exact letter to other woman in the area.
Bliss made the shocking discovery after she posted the photo onto her blog and expressed how thrilled she was to have been given a love letter by a secret admirer.
Apparently, the mother of one walked into a gas station on Valentine's Day for a cup of coffee and found the "romantic" note on her windshield.
An excerpt from her giddy blog reads,
I nearly fell over. Who does this? This is so old school, handwritten, on paper and so gutsy and romantic. It honestly has made my day — maybe even week. It's the little things that make me smile.
She continued,
Whether or not I meet this thoughtful man, or whether we hit it off or not, he made my day today. OK men… be like Josh.
After Bliss posted the touching letter onto her blog, she was contacted by two other women in Brisbane who have gotten the same exact letter from "Josh."
One woman named Kelly said she received the same letter from Josh when she was pregnant with her second child.
Upon seeing the exact same note given to Bliss, she said,
So funny, I cracked up laughing. It was like 10 months ago, clearly he has had no success.
Another woman who reached out to Bliss said she received the same exact note written in the same exact handwriting, signed by the name "Blake" instead of "Josh."
Nice try, "Blake."
To make matters even worst, Bliss discovered "Josh" isn't even single.
Apparently, she spoke to his "heartbroken" girlfriend and wrote about the unfortunate discovery in a new blog post, titled "Josh Has a Girlfriend — Don't Be Like Josh."
She wrote,
"Josh" is not at all who he claims to be, I've just been speaking to his heartbroken girlfriend. Different name and age but pics, note and messages are the same.
Well, that's a bummer.
It looks like Josh is about to draft a few hundred more identical notes to leave around town, because something's telling me his girlfriend isn't going to be OK with his secret love letters.
OK men... don't be like Josh.
Citations: Stranger who left single mum a note calling her 'breathtaking' is branded a 'serial sender' after TWO others received the same message... as it's claimed he also has a GIRLFRIEND (Daily Mail)