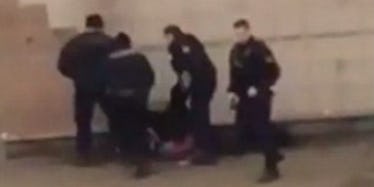 Man Raped By Cop With Baton Shares Graphic Details: 'I Had No Strength Left'
DM Video
A young black man raped by cops in France on Thursday has shared graphic details about the incident during a witness testimony.
On Thursday, the 22-year-old youth worker, named Theo, was hospitalized for a "deep anal tear" after he was allegedly attacked by police and sexually assaulted with a baton during his arrest.
Riots have since erupted in Aulnay-sous-Bois, the northern Paris suburb where the harrowing incident occurred.
During an interview with his lawyer, the young man claims he was approached by four police officers for an identity check.
Things took an ugly turn when the officers began hitting the young man and making racist remarks.
Theo claims one of the officers then took his truncheon and "drove it into his buttocks."
As the abusive police officer sodomized the man with his baton, he fell face down onto the ground.
According to Theo,
I had no strength left. It was as if my body had left myself. I thought I was going to die.
Police then ordered the man to sit down. However, he could not sit due to the painful anal tear he endured during the attack.
As a result, police officers hit him and sprayed him with tear gas until he finally assumed a sitting position on the ground.
Theo claims the police officers handcuffed him and led him to a patrol car, then proceeded to humiliate him, spit on him and repeatedly hit him "in the private parts."
Theo was was taken to a nearby hospital for treatment after another officer at the police station noticed the severity of the young man's injuries.
A lawyer defended the police officer accused of raping the young man, stating,
The blow had been carried out in a totally involuntary manner, without his being aware of any injury.
While police have yet to reveal the identity of the victim, many people have been marching through the streets in shirts that say "Justice Pour Theo" (translated as "Justice For Theo") since the incident.
The man's sister also spoke to news outlets following her brother's brutal arrest, saying,
He works with young people. He is always smiling, always laughing, always making jokes. You can ask everyone where we live, he is known for his good mood and his kindness.
According to Theo's sister,
Doctors can't say today what longstanding consequences he faces. We should wait two months, at least two months. Today he has a bag – we are hearing a lot of things, especially regarding incontinence, so… We can't say that he is doing well and he is in a rather critical condition.
The victim's lawyer, Eric Dupond-Moretti, is calling the case "exceptionally serious."
One police officer is facing charges of aggravated rape while the other three officers have been charged with aggravated assault.
All four police officers have been suspended from their positions as they await trial.
Citations: Man 'raped with police truncheon' gives graphic details of attack (Metro)