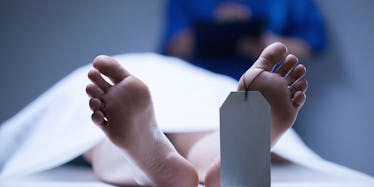 Man Who Was Declared Dead Came Back To Life Right Before His Autopsy
Shutterstock
A man in India was pronounced dead but woke up just minutes before his autopsy was about to start.
According to the BBC, a homeless man known as Prakash, who is reportedly between 45 and 50, was taken to the hospital on Sunday after police found him unconscious at a bus stop in Mumbai, India.
Prakash had an ear infection, as well as a metabolic disorder, and reportedly had maggots all over his face.
At a press conference Monday, Dr. Suleman Merchant, department head of Lokmanya Tilak Municipal General Hospital, reportedly said Prakash was likely "lying around for at least six or seven days."
Chief Medical Officer Dr. Rohan Rohekar checked Prakash's pulse before declaring him dead, Daily Mail reports.
Hospital protocol apparently requires patients who are pronounced dead to be kept in the casualty ward for at least two hours in case the body can be revived. Dr. Rohekar, however, allegedly instructed hospital staff to take Prakash to the morgue immediately after he was pronounced dead.
The body was about to be taken into the post-mortem examination room when two morgue staff members saw Prakash's stomach contracting, according to NDTV.
Prakash woke up as the pair hurried back to the casualty ward to tell doctors what they saw.
A hospital staff member said after learning of his mistake, Dr. Rohekar quickly ripped up the death intimation report he filled out and got rid of the entry he made in the casualty ward log.
Prakash is reported to be in stable condition while undergoing treatment for malnourishment and an ear infection at the hospital.
Dr. Merchant said certain patients who experience serious shocks or traumas often do not appear to have pulses for a temporary period of time. One such patient was discovered to be alive a little too late over the summer.
Dr. Merchant added Dr. Rohekar was "reprimanded" for disobeying hospital protocol, which he may not have been too "familiar with" since he is "new to the hospital."
The hospital is now conducting an inquiry into the breach of protocol and possibly filing a report with the police.
Citations: Mumbai man comes back from the dead before post mortem (BBC), Man declared dead after being admitted to an Indian hospital with an ear infection wakes up minutes before his autopsy is about to begin (Daily Mail), Man Comes Back From the Dead Before Post Mortem (NDTV)