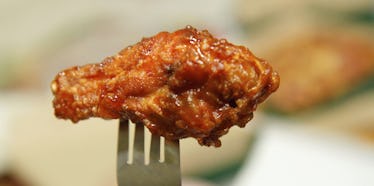 38-Year-Old Man Murders Roommate For Eating The Last Piece Of Chicken
Getty Images
A Texas man fatally stabbed his roommate because he finished the last of their dinner.
According to Daily Mail, the murder occurred after 38-year-old Reinaldo Cardoso Rivera was dining and drinking with several other men including his roommate, 34-year-old Darwin Gonzalez, in a Houston apartment Friday night.
Gonzalez reportedly enraged Rivera by taking the last piece of fried chicken.
The two soon took the argument outside to the apartment complex's parking lot where the verbal exchange escalated into a physical battle witnessed by several people.
At a little before 11:30 pm, a bloodied Rivera allegedly produced a kitchen knife, stabbed Gonzalez and ran away.
Gonzalez reportedly died at the scene.
Rivera returned to the complex at around 4 am and admitted the crime to the police.
Houston Police Department Homicide Detective Fil Waters told Houston Chronicle,
There was a single drumstick in the pan. You can't script this stuff. It's someone getting killed over a piece of chicken. Pretty tragic.
Rivera was charged with murder and is currently being held at Harris County Jail on $200,000 bond, USA TODAY reports.
He is reportedly of Cuban descent, and according to his case file, he is not a citizen of the US.
Citations: Texas man stabs his roommate to death for eating last piece of fried chicken at dinner (Daily Mail), Fight over fried chicken turns fatal in W Houston (Houston Chronicle), Man killed for grabbing last piece of chicken cops say (USA TODAY)