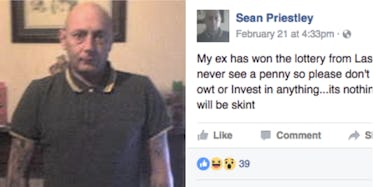 Man Whose Ex-GF Won $18M Writes Bitter FB Post After She Rubs It In His Face
Facebook
What's the first thing you'd do if you won the lottery?
Personally, I would buy a convertible and ask my new driver to slowly roll it through New York City while cheerleaders chant my name and I spray dollar bills at the gathering crowds with a strip-club cash cannon.
But when Beverley Dolan scooped an insane $18 million jackpot on Europe's lottery, she had something very different in mind.
One of her first priorities was to reach out to her ex of 12 years, the man who fathered three of her kids — and brutally rub it in his face.
Today's World's Unluckiest Human is Sean Priestley, a 48-year-old tattoo artist from Bradford, England.
Sean and Beverley were a couple for 12 years, have three children together and only broke up seven months ago, but Beverley just had to let Sean know her gigantic lottery win will change absolutely nothing for him.
He wrote on Facebook,
My ex has won the lottery from last week, she's already assured me I will never see a penny so please don't ask me to have a word (to) see if I can borrow owt or invest in anything. It's nothing to do with me. I am, and probably always will be, skint.
Oh, man. I just want to give Sean a hug and tell him everything's going to be OK.
Beverley is a multi-millionaire now, but she still felt the need to come after her ex and remind him he'll always be poor — not a classy move.
Disguising his sadness and fooling precisely no one, Sean told MailOnline,
I'm chuffed to bits for her. It's not my money, but now the kids are financially secure for the future. I'd love to say more, but I've got to think of the kids.
Other than the savage takedown of her ex, 37-year-old Beverley has a true "rags to riches" story that's made for the big screen.
The single mom of four has gone from receiving government benefits in the UK to living the high life after her huge EuroMillions win.
She said,
It's just come at a right nice time. I've been there like most people. I've struggled. It's overwhelming to know that I'm never going to have to struggle again.
Keep doing you, girl.
Citations: The lotto loser who won't see a penny: Skint ex-boyfriend is left with nothing after splitting from mother of four just months before she scooped £14.5million (MailOnline)