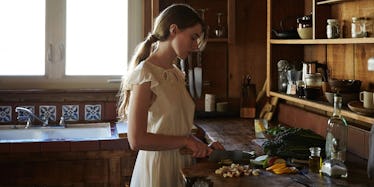 Man Divorces Wife Because He Reportedly Says She Cooks Dinner Too Late
A court reportedly allowed a man to divorce his wife because she wouldn't have dinner ready when he was hungry.
According to Daily Mail, 57-year-old Olufade Adekoya of Nigeria told a court his wife, Olusola, made a habit out of bringing dinner to him much later than when he asked.
He allegedly said he "warned her several times," but his wife of 25 years declined to obey his orders.
Adekoya is quoted as saying,
My wife had failed in her matrimonial obligations. There is no point in harboring a wife that makes me hungry... I am totally fed up.
Olusola reportedly told the court her husband's account was not true; she suggested he made the whole thing up as an excuse to get divorced and have relations with another woman.
Judge Olu Adebiyi, however, apparently decided to grant the Nigerian man's request.
The judge reportedly said,
The court had tried several times to reconcile their differences, but all efforts proved abortive.
Nigerian courts reported quite a fair share of ridiculous reasons for divorce over the years.
I would argue, though, one of the most outrageous marriage outcomes in history took place in Algeria where a man apparently sued his new wife for fraud after seeing her without makeup for the first time.
Citations: Nigerian man divorces his wife of 25 years because she took too long to cook him dinner (Daily Mail)