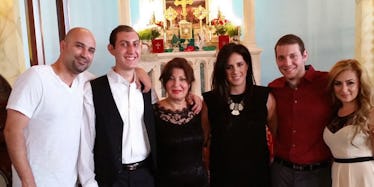 Man Dies In Freak Accident Days After Family Did Sacrifice To Protect Him
A California man was killed in a car accident a few days after his family sacrificed a lamb to protect him from evil.
According to the Los Angeles Times, 20-year-old Richard Pananian of Burbank, California was rapidly cruising down the right shoulder of a highway en route to his new job at Glendale Collision Center last Friday at around 7 am.
His 2004 Ford Fiesta rear-ended a pickup truck and flipped over several times. Pananian was thrown out of the car and onto a freeway sign at least 20 feet above the road.
The body was covered in a white sheet by emergency workers and removed over two hours later at about 9:40 am, Daily Mail reports.
A spokesman for California Highway Patrol told the Los Angeles Times Pananian was not wearing a seatbelt when he crashed.
His cousin, Armen Kardashian, was shocked to hear this because Pananian was an avid car enthusiast whose driver's seat featured a five-point harness typically worn by racers.
Kardashian started a GoFundMe page on November 1 to raise $50,000 for the funeral, memorial service and "unexpected financial burdens" the family is currently experiencing.
On the page's website, he wrote,
A week ago today on 10/25 the family had done what is called a 'matagh' or a lamb sacrifice for Richard to protect him from harm and evil. In the Armenian culture sacrifices are done when someone escapes death, as Richards life was once spared.
Kardashian told the Los Angeles Times his cousin nearly lost his life to unspecified health problems.
The Matagh, or lamb sacrifice, was likely performed to thank God for sparing him.
Of his late cousin, Kardashian wrote on the GoFundMe page,
Like his father he was the one of the most friendly, giving, compassionate people you would ever meet…he was a type of person that would remember you, and call you to say hey I hope your having a good day.
As of this afternoon, over $14,500 was raised by more than 240 people.
Citations: Family performed a lamb sacrifice to protect a man from evil and harm days before he was ejected from his car onto a freeway sign in horrific crash (Daily Mail), Lamb sacrifice performed for man days before he was ejected onto freeway sign (Los Angeles Times)