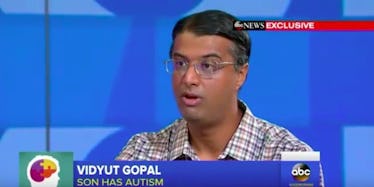 Man Defends Autistic Son After Being Sued By Neighbors Over His Behavior
Silicon Valley engineer Vidyut Gopal is publicly defending his autistic son after the family's neighbors in Sunnyvale, California filed a lawsuit over the boy's behavior.
The joint suit claims the 11-year-old boy "attacked" neighborhood children on "multiple occasions," calling him a "public nuisance."
Following an injunction issued by a Santa Clara County Superior Court judge, Gopal and his wife, NASA researcher Parul Agrawal, put their son into therapy in an effort to appease the neighbors.
The plaintiffs persisted with the lawsuit, however, suggesting the autistic boy's presence in the neighborhood has caused property values to drop. It was then the Gopal family was forced to relocate, moving from their home of seven years.
Still, two families from the Sunnyvale neighborhood refuse to drop the civil suit.
The plaintiffs insist they never intended to "[make] enemies" with the Gopal family; rather, they were concerned with the safety of their children.
Vidyut Gopal recently appeared on "Good Morning America" to discuss the discriminatory lawsuit and tell his side of the story.
He explains,
We have structured our life around [our son] and in helping him to develop and we have got an all-gold standard therapy for autism that most parents get their children… We never imagine[d] that something like this could happen to our family. Every extra day we have to go through this lawsuit takes our focus away from helping our child.
The Gopal family lawyer, Areva Martin, tells ABC she suspects ulterior motives like money.
Watch Vidyut Gopal's emotional "Good Morning America" segment below, and learn more about autism spectrum disorder at Autism Speaks.
Citations: Father sued by neighbors over autistic sons behavior speaks out to say his child is in gold standard therapy and they do everything they can to integrate him (Daily Mail)