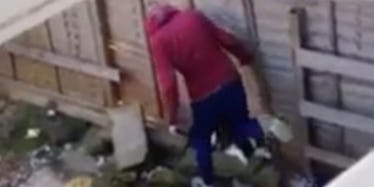 Man Caught On Video Abusing Dog Posts Disturbing Reply To Haters On FB: 'LOL'
Facebook
A man who was filmed kicking a defenseless dog in the head has trolled Facebook haters with a simple message: "I don't give a fuck."
Thomas Millar, also known as Skinny, was the target of abuse on social media after people accused him of kicking his husky in the garden of a home in Doncaster, England.
But he has taunted people who have commented on his page, writing "I don't give a fuck," "life still goes on," and "LOL."
The RSPCA, a leading British animal charity, is now investigating the footage, which is believed to have been filmed by a neighbor.
And although they have seized an adult husky, a puppy is missing, leading to fears for its safety.
A spokesman for the charity told MailOnline,
We are aware of this video and a man has been interviewed with a view to bringing a prosecution. An adult husky dog has been removed from the property by police on veterinary advice and placed in RSPCA care. If anyone knows where the husky puppy in the video is we want to hear from them urgently.
Stephanie Pearson, who knows Millar, claimed she confronted him about the video, and he allegedly said it was because the dog chewed his sofa.
She posted the clip on Facebook and YouTube after it was sent to her.
She said,
So this morning I got sent a video! When I asked SKINNY why he done that to a poor dog can clearly tell in the video that the dog dearnt even lift it's head never mind look at him! His excuse was it's chewed my sofa up just f***ing WOW! Take it to classes or something to be trained not intimidate a poor dog that is clearly s**t scared of you anyways.. iv always got on with you until now we have a big f***ing problem an every one should know how you treat pets so you don't get another handed to you!!! A dog is for life not for you to beat!
Tens of thousands of people have now seen the shocking clip.
Citations: LOL, life goes on: Shocking response of thug accused of kicking husky puppy in the face after neighbour's video was shared online (MailOnline)